Did you know that the Untied States has named over 420 parks across the country including some amazing National Parks in Ohio? From sprawling parks with acres and acres of natural beauty and land forms to historical places of Presidents and famous Ohioans, these parks are perfect for a day trip, weekend getaway, or family vacation close to home.
No matter what you're looking for, these 8 National Parks in Ohio have something for everyone and locations you're family will want to explore again and again.
Cuyahoga Valley National Park
Following the direction of the Cuyahoga River between the cities of Cleveland and Akron, the Cuyahoga Valley National Park is one of the most treasured National Parks in Ohio. With many entrance areas to the park, you'll find a large variety of natural beauty including deep forest, scenic overlooks, lakes, ledges, farmland, rolling hills, waterfalls, and more.
The large 33,000 acre park has so much to see and do as well as a variety of ways to see and experience the park. Drive through the park attractions from the comfort of your car, walk, jog, or bike on paved and solid surface paths, explore by kayak, canoe, horseback, mountain bike, or hike some of the many blazed trails established for all skill levels. Another unique and fun option is to see the park by train from the historic Cuyahoga Valley Scenic Railroad that travels from Independence, OH to Akron with many stops in between with availability for strollers and bikes.
Cuyahoga Valley National Park
6947 Riverview Road, Peninsula, OH 44264
Website
You may also be interested in: More fun things to do in Akron Ohio
James A. Garfield National Historic Site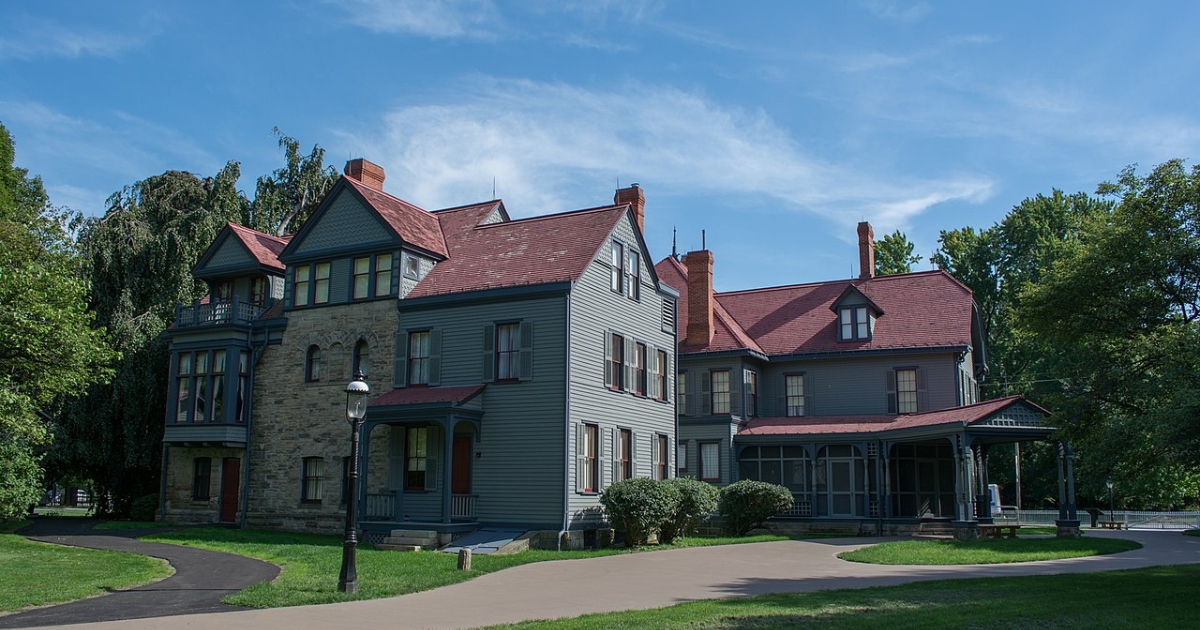 Located in Mentor, Ohio, the James A. Garfield National Historic Site is a pet friendly park that offers visitors the opportunity to tour the Garfield home, explore the visitor center with museum exhibits featuring President Garfield's life from childhood through his presidency, and participate in National Park activities.
Visit the porch and tour the property where in 1880 the soon to be 20th President of the United States gave the first of many in person speeches to over 17,000 visitors. Be sure to make your reservations for the 45 minute guided tour of his Victorian style home in advance from the welcome center and get details for the cell phone tour to listen as you explore the 160 acre farm grounds with a self-guided walking tour. Visitors can also see a video of the president's accomplishments, purchase books and souvenirs from the bookstore, participate in Junior Ranger Program activities, as well as enroll your dog to become a B.A.R.K. Ranger.
James A. Garfield National Historic Site
8095 Mentor Avenue, Mentor, Ohio 44060
Website
You may also be interested in: More fun things to do in Cleveland Ohio
Perry's Victory and International Peace Memorial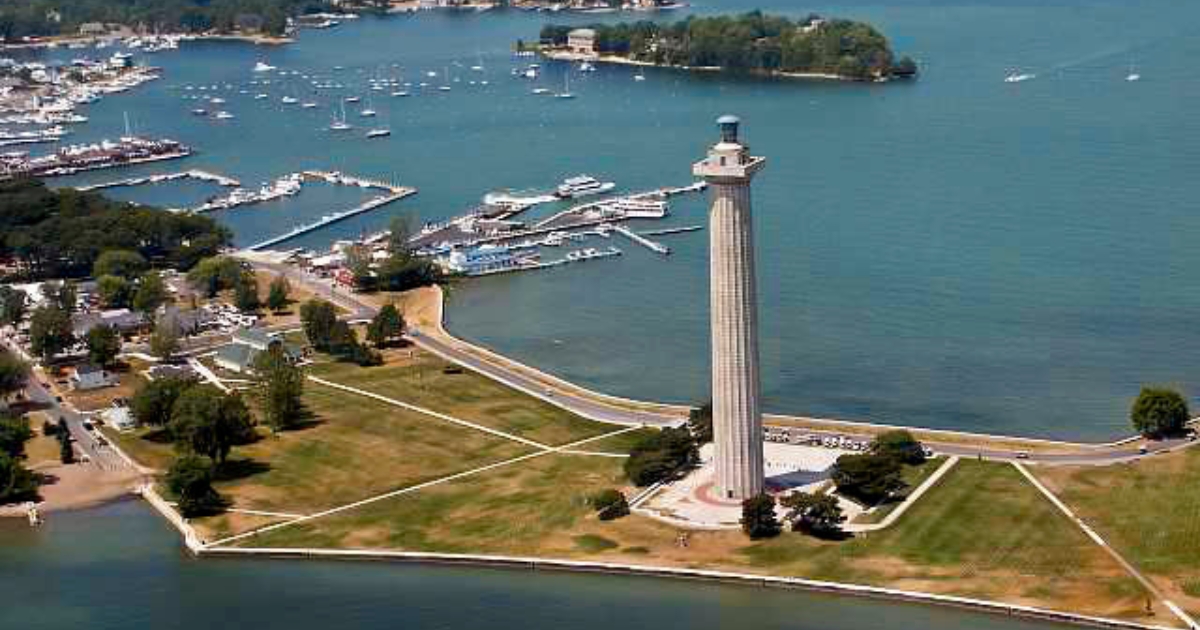 Found in Put-in-Bay, Ohio located on South Bass Island, Perry's Victory and International Peace Memorial shares the history of and honors those who fought in the Battle of Lake Erie in the war of 1812. Learn about Master Commandant Oliver Hazard Perry and his men and visit the bookstore at the visitors center, plan a field trip for a special educational experience, participate in Ranger programs or one of the many special events happening all summer long. Or experience one of the park's Black Powder Demonstrations where you can see firing demonstrations with reproduction flintlock muskets.
In addition to all of the historical experiences offered here, you won't want to miss the opportunity to see the beautiful panoramic views from the open air Observation Deck 352 feet above Lake Erie. Purchase your tickets and plan your reservation time in advance, most other activities at the Peace Memorial are free of charge for all visitors.
Perry's Victory and International Peace Memorial
93 Delaware Avenue, Put-in-Bay, OH 43456
Website
You may also be interested in: More fun things to do in Put in Bay or things to do in Sandusky Ohio
Hopewell Culture National Historical Park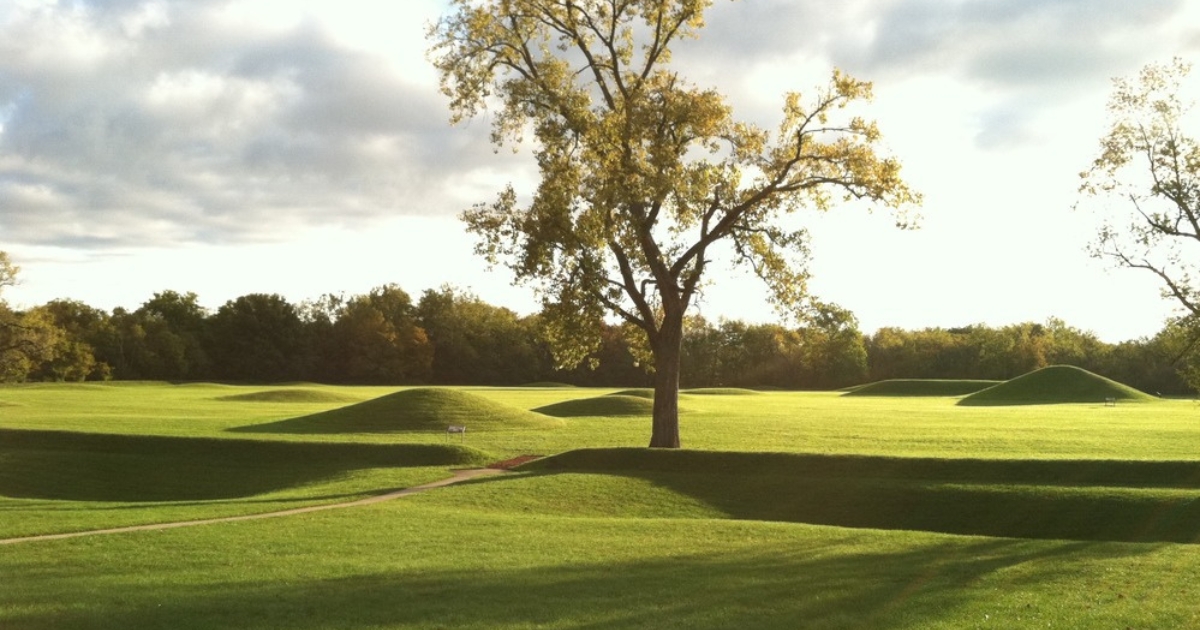 The Hopewell Culture National Historical park consists of at least two dozen mounds and earthworks created by ancient Native Americans between 1-400 AD. When you go, you may want to start with the visitor's center where you will find a gift shop, auditorium and museum to learn about Hopewell Culture, as well as restrooms before heading out to explore the mounds on foot.
Exploring the 1,800 acres of park lands to see the mounds and ancient ceremonial structures requires a lot of walking on a variety of terrain including a 1.1 mile trail of the Hopeton Earthworks, a 2.5 mile trail of the Hopewell Mound Group (partially paved with some gravel and grass pathways), grass path only options at Siep Earthworks, and more at Mound City Group and Spruce Hill Earthworks. Visit the website for locations, maps, history, and details about these amazing sites.
Hopewell Culture National Historical Park
16062 State Route 104, Chillicothe, OH 45601
Website
Charles Young Buffalo Soldiers National Monument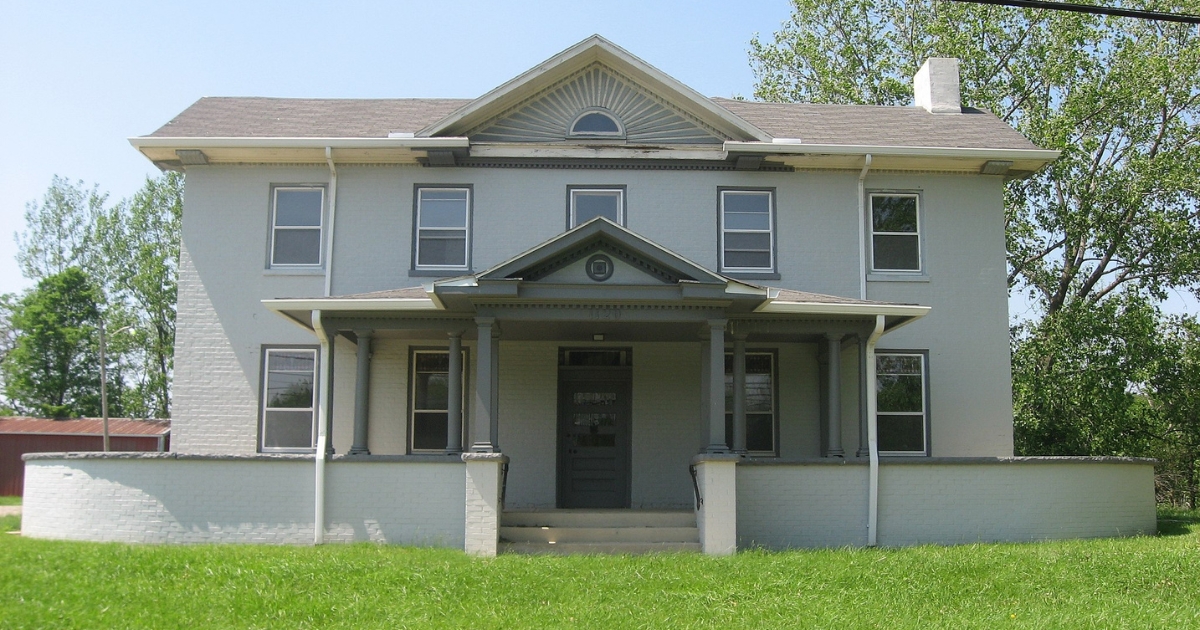 ** Currently closed for renovation and expansion to expected to re-open in 2023**
Visit his Wilberforce, Ohio home and learn about Colonel Charles Young and the brave African-American service men he led during his long and dedicated life and career. Born into slavery in Kentucky in 1864, Colonel Young's family was able to cross the Ohio River to settle and serve in Ripley, Ohio where Charles graduated from High School before being accepted into West Point in 1883.
The 60-acre property was officially designated by President Obama in 2013 making it the National Park Service's 401st national site to honor the life, commitment, and accomplishments of Colonel Young and all of the "Buffalo Soldiers." Guided tours as well as self-guided cell phone tours are available daily.
Charles Young Buffalo Soldiers National Monument
1120 U.S. Route 42 E., Wilberforce, OH 45384
Website
Dayton Aviation Heritage National Historical Park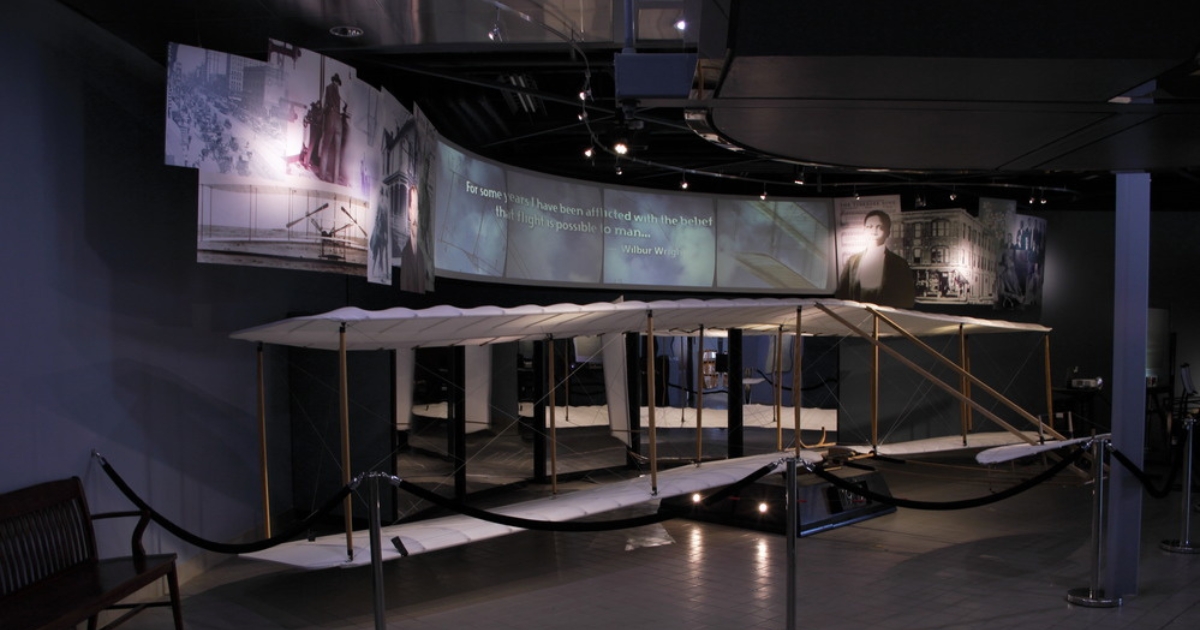 Learning about the history of aviation couldn't be easier than visiting the 5 National Historic Landmarks that make up the Dayton Aviation Heritage Park. All in one historic city you'll find the 1905 Wright Flyer III, Wright Cycle Company (the birthplace of aviation), Huffman Prairie Flying Field, Hoover Block, Hawthorn Hill, and the Paul Lawrence Dunbaar State Memorial.
See the bicycle shop where the Wright Brothers created the plan for their first flight, the Wright-Dunbar Visitor center with films and exhibits of their aviation journey, and even visit the field where the brothers built and learned to fly the world's first practical airplane, the Wright Flyer III.
In addition to the two visitors centers and locations with historic artifacts and exhibits, you can also plan a van-shuttled tour of Hawthorn Hill, the impressive mansion home of Orville Wright, from the Carillon Historical Park.
Dayton Aviation Heritage National Historical Park
16 South Williams Street, Dayton, OH 45402
Website
You may also be interested in: More fun things to do in Dayton Ohio
First Ladies National Historic Site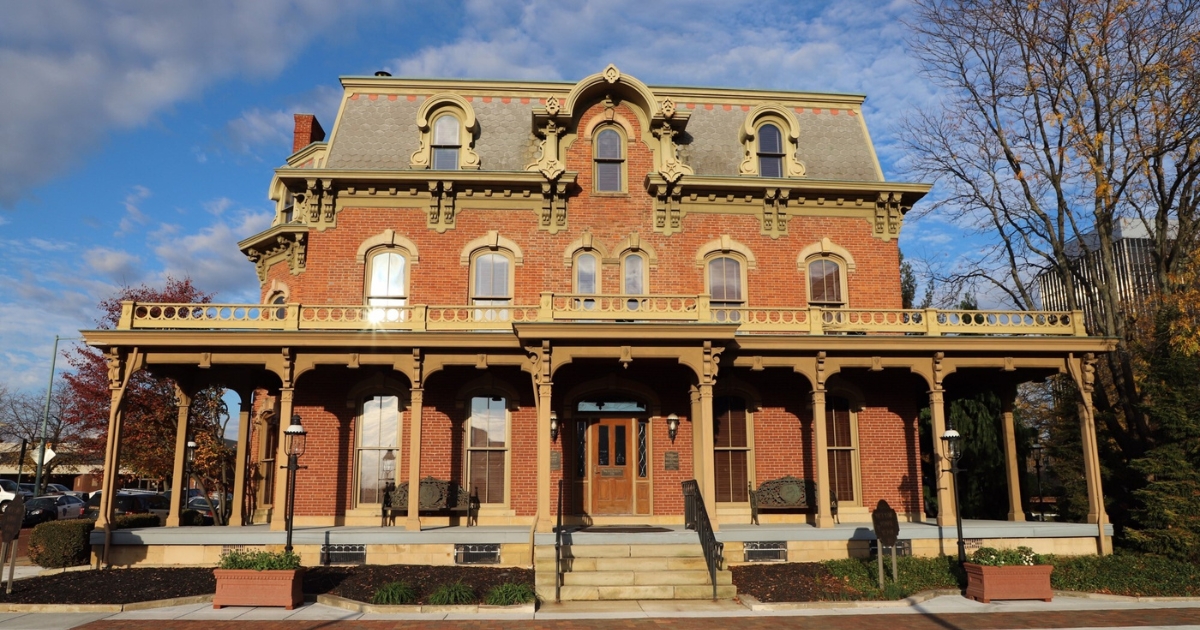 With two properties, you can explore and learn about how the role of the First Lady was established, evolved, and grew into the public role that it is today. Located in downtown Canton, Ohio and only one walkable block from each other, plan your visit starting at the Education Center before heading out to tour the Saxton House, the former home of Ida and William McKinley.
Found in the historic City National Bank, Education Center offers a small museum of exhibits, a film theater with rotating films, and Junior Ranger activities, as well as tickets and details for guided tours of the Saxton House. The beautifully restored house was the birth home of First Lady Ida Saxton McKinley, where she lived all her life including much of the time with her husband, President William McKinley. Be sure to visit the website when planning your visit, as hours vary by season.
First Ladies National Historic Site
205 Market Avenue South, Canton, OH 44702
Website
You may also be interested in: More fun things to do in Canton Ohio
William Howard Taft National Historic Site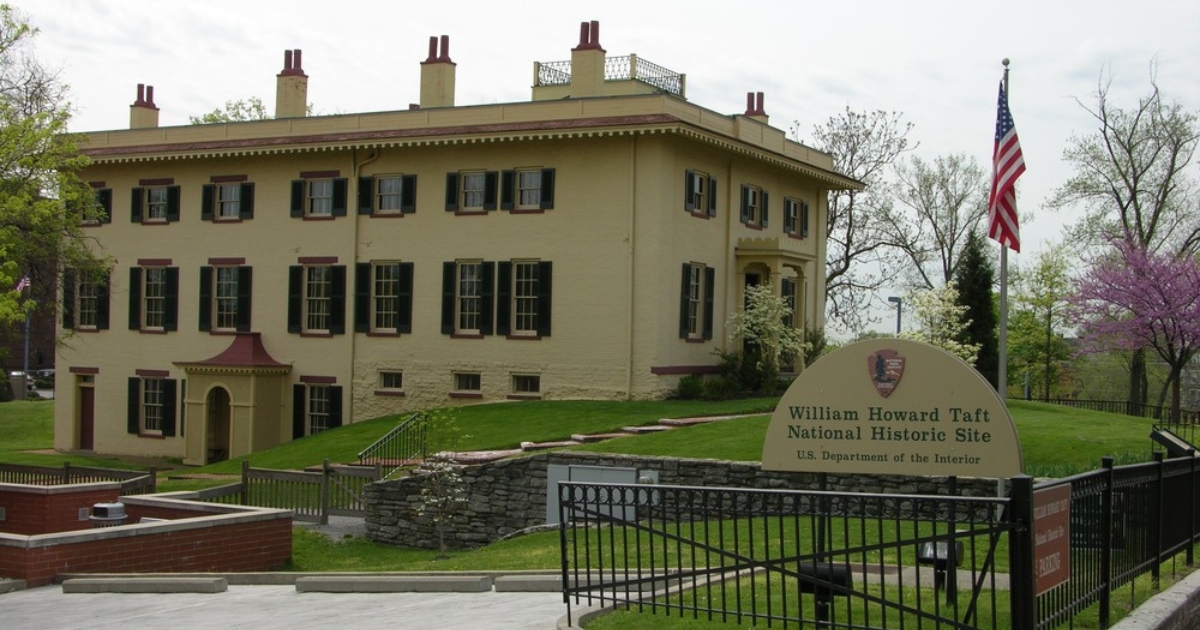 The park includes the Taft Education Center and the birthplace home of William Howard Taft who became and still holds the record as the only person to serve as both Chief Justice of the US Supreme Court and President of the United States.
Located near downtown Cincinnati and open daily year round, the Taft Education center offers a bookstore, a variety of special exhibits, a park film, as well as tickets and details for a tour of President Taft's Greek revival style home located just across the street. The guided tours are free, last between 30-60 minutes, and the home is decorated in the Victorian style as it was during the time the president lived there.
William Howard Taft National Historic Site
2038 Auburn Avenue, Cincinnati, OH 45219
Website
You may also be interested in: More fun things to do in Cincinnati Ohio
Tips for Visiting an Ohio National Park
Plan now which parks to visit – The parks are located across the state and perfect for a day trip, weekend visit, or family vacation. Once you know where you are going, be sure to check our family travel page for more fun things to do in or near the park you're visiting.
Double check the hours and details before you go – When planning your trip, use the links in this article for details including open dates, hours, fees and more. Many of the parks have seasonal hours and scheduled closed dates. You might also want to plan and purchase tour tickets in advance to avoid disappointment if they sell out on the day you visit.
Check for entrance fees and discounts – Although many of the parks are free, entrance fees vary for each park and some offer discounts for groups, veterans, etc. Also, if you will be visiting with a 4th grade student, be sure to sign them up for the Every Kid in a Park program for free admission.
Become a Junior Ranger – Many of the National Parks offer the Junior Ranger Program. Check the website of the park before you visit to see if the program is available, download activity booklets in advance, and find out the activities offered at each park in advance.
Protect your kids (and yourself!) from the sun – Many of the parks include both indoor museums, tours, and outdoor activities. If you're visiting a park with a lot of outdoor walking and/or activities, be sure to load up with sunscreen or wear a hat to keep the sun off your face.
Check the forecast before you go – The weather in Ohio is often unpredictable so check before you head out to the park. Also, if inclement weather is possible, check the park's policy and weather announcements before you go. Some parks limit activities or close depending on the weather conditions.
Prepare for the weather (and recent weather) – Depending on the park you choose, consider wearing layers so everyone is comfortable both indoors and out. You may even want to bring an extra pair of clean socks and shoes for the drive home if walking in wet conditions are likely.
Be sure to bring some cash money – You'll likely want to purchase museum gifts, snacks, and participate in additional activities offered by the park, so be sure to bring some cash money in case they don't accept credit cards.
Remember your camera – National parks and sites are full of historic beauty and grounds you won't want to forget. Make sure your phone is charged or bring along a camera to capture some of the incredible photo opportunities they provide.
More Fun Things to do in Ohio