Located near the border of Indiana and Kentucky, Louisville is the largest city in Kentucky and is a perfect destination for a family road trip. Whether you visit in the spring to watch the derby or during the winter to drive through an underground Christmas lights display there are so many fun things to do in Louisville, KY. Including, unique museums, horse racing, amusement parks a zoo and much more!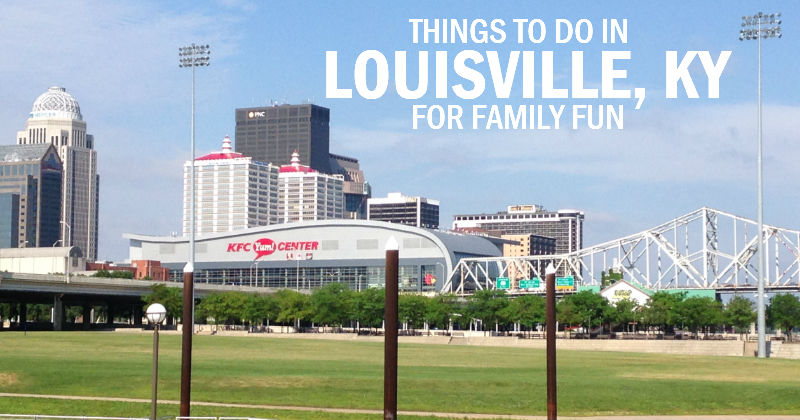 And because Louisville, KY is a short drive from Northeast Ohio, it is a great destination for a long weekend getaway or week long vacation. Read on for ideas on fun things to do with kids in Louisville.
Visit the Kentucky Derby Museum and take a Tour of Churchill Downs
Take a tour of Churchill Downs and explore the interactive exhibits at the Kentucky Derby Museum. The museum was one of our favorite spots during our road trip to Louisville. We were extremely impressed with the set up of the museum, the quantity of kid friendly exhibits and hands on activities, and the guided tour of Churchill Downs. It's a must visit attraction when visiting Louisville.
Kentucky Derby Museum
704 Central Ave, Louisville, KY 40208
(502) 637-1111
Website
Read More: Top Tips for Visiting the Kentucky Derby Museum with Kids
Watch Baseball Bats being Made at Louisville Slugger Museum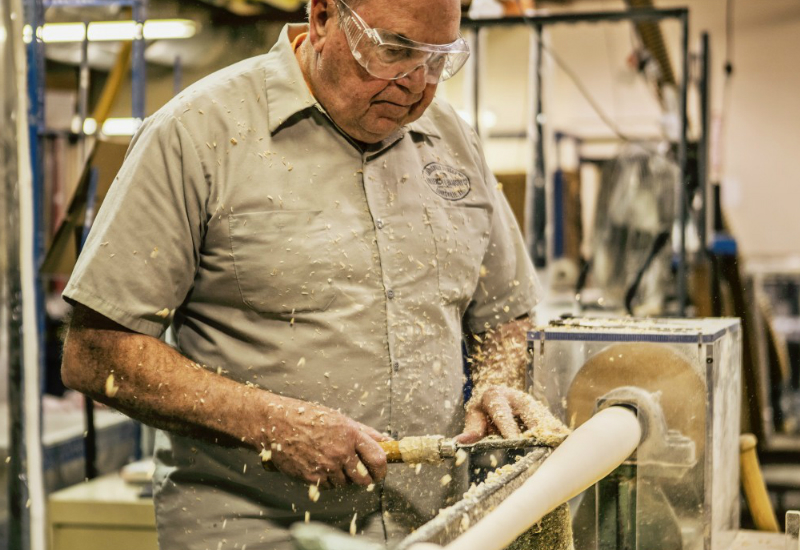 Baseball fans of all ages will enjoy seeing the bat making process and the fun mini bat souvenir at the end of the tour. While visiting the museum, guests will learn about baseball history, how the company started and get an up close look at Louisville Slugger bats being made.
All the exhibits at the museum are kid friendly and educational, making it a great place to take your family.
Lousiville Slugger Museum & Factory Tour
800 W Main St, Louisville, KY 40202
(877) 775-8443
Website
Read More: Family Fun at Louisville Slugger Museum and Factory
Explore the Louisville Mega Cavern
Whether you choose to zip line, bike ride, complete the ropes course or take the tram tour, there are many fun things to do in the cavern. In addition to the everyday activities they also have special event including the popular Lights Under Louisville underground Christmas lights display.
Louisville Mega Cavern
1841 Taylor Ave, Louisville, KY 40213
(877) 614-6342
Website
Read More: The Mega Tram Tour at Louisville Mega Cavern
Tour the Muhammad Ali Center
Regardless if you are a boxing fan or not, the Muhammad Ali Center is a must see during your visit to Louisville. Located along the museum road in the city's West Main District, the Muhammad Ali Center provides all its visitors a unique perspective of one of the greatest athletes as well as one of Louisville's own. This center takes you through the life of Muhammad Ali. You can enjoy the interactive exhibits, galleries and will discover the six core principles that Muhammad Ali embraced throughout his life.
Muhammad Ali Center
144 N. Sixth Street Louisville, KY 40202
Website
Experience Hands on Fun at the Kentucky Science Center
The Kentucky Science Center, located along museum row in in downtown Louisville, is Kentucky's largest hands on science museum. Kids can enjoy exhibits like Science in play, The world we create, discovery Gallery, The World Around Us and The World Within Us. There are also daily movie showings to choose from while you are visiting the museum.
Kentucky Science Center
727 West Main Street Louisville, KY 40202
Website
See Animals up Close at the Louisville Zoo
The Louisville Zoo is a 135-acre zoo located in the popular Level neighborhood in Louisville, Kentucky. With over 1,700 animals the zoo offers families a full day of fun and excitement. The zoo is broken up into four different sections including: the Australia, Africa, Islands and Glacier Run. No matter where you are you will find yourself with up close encounters of some of the world's most beautiful animals as well as educational facts. Other special exhibits include the Gorilla Forest, New World Exhibits (North, Central and South America), and the Aquarium.
The the next time you are in the area or you are looking for a great afternoon a fun and adventure, check out the Louisville Zoo.
Louisville Zoo
1100 Trevilian Way Louisville, KY 40213
(502) 459-2181
Website
Embark on the Belle of Louisville Riverboat Cruise
Take the family on a 2 hour cruise along the Ohio River. You'll pass under bridges, see historic sights and enjoy a delicious meal. There are two boats that passengers can cruise on: The Belle of Louisville, a 100+ year old Mississippi river steamboat, and The Spirit of Jefferson, the Belle's little sister.
The Belle of Louisville & The Spirit of Jefferson
401 W River Rd, Louisville, KY 40202
(866) 832-0011
Website
Read More: Enjoy a Meal on a Scenic Riverboat Cruise
Explore the Great Outdoors at Beckley Creek Park
If you are looking for a great day to spend outdoors and take part in a variety of activities, look no further than Beckley Creek Park. Located on more than 20 acres, Beckley Creek Park has a wide range of outdoor activities as well as an indoor education center. Whether you are looking to spend time around the lake, fishing or walking one of the paths, or you have kids who want to enjoy the playground or spray ground, a day adventure at Beckley Creek Park is a perfect time to disconnect from the pressures of life.
While you are there, make sure to stop by the PNC Achievement Center for Education and Interpretation. You can interact with friendly Rangers who can help educate the you and your kids on the history of the area. Spending the day at Beckley Creek Park is a great way for the family to get out and enjoy nature.
Beckley Creek Park
1411 Beckley Creek Parkway Louisville, KY 40245
Website
Enjoy Free Fun at the Louisville Waterfront Park
Spend the day enjoying the green space, splash pad, playgrounds, and fun sculptures at the park. Then walk across the Pedestrian Bridge at night when it is covered in lights.
Louisville Waterfront Park
401 River Rd, Louisville, KY 40202
Website
Experience the Arts at Actors Theatre of Louisville
If you enjoy the arts, the Actors Theatre is a must visit when in Louisville. Located in downtown Louisville, Kentucky, the Actors Theatre of Louisville is a award winning performing arts theater with more than 400 performances annually. The Actors Theatre performances include classics and contemporary work through the Brown-Forman Series, holiday plays, a series of free theatrical events produced by the Professional Training Company, and the Humana Festival of New American Plays.
Whether you are looking for a one time visit or a season full of fantastic performances, the Actors Theatre of Louisville is a perfect setting for a great evening on the town.
Actors Theatre of Louisville
316 West Main Street Louisville, KY 40202
Website
Frazier History Museum
If you are interested to learn everything there is to know about Kentucky, look no further than the Frazier Museum. Located in museum row, The Frazier offers three floors of exhibits, an education center, Museum Store, and a small theater. Visitors will not only be able to see the history of Kentucky, but each exhibit offers stories of how each artifact has impacted those who owned them or how the artifact may have impacted our world. We encourage visitors to set some time aside and visit The Frazier Museum, to allow them a better perspective and appreciation of the great state of Kentucky.
Frazier History Museum
829 West Main Street Louisville, KY 40202
Website
Walk around the Historic Neighborhood of Old Louisville
You do not have to be a history buff or an architect to appreciate the historic neighborhood in central Louisville Kentucky. Old Louisville is the third largest historic district in the US and offers 48 city blocks of some of the finest Victorian architecture. Visitors can take guided walking tours Tuesday through Saturdays of the grounds for a nominal fee. Events are also held occasionally in the area and if you are looking for a longer stay, bed and breakfasts are offered to visitors.
Historic Old Louisville Neighborhood & Visitors Center
1340 S 4th St, Louisville, KY 40208
Website
More Family Friendly Fun in Louisville
Looking for more ideas on things to do with your family in Louisville? Check out the Louisville Visitors Center for even more suggestions on things to do, places to stay and where to eat while you are visiting Louisville.
What about you? Have you been to any of these of other family friendly destinations in Louisville KY? Leave a comment to let us all know what your recommendations are. Thanks!