During the holidays a common conversation between parents is the massive amounts of "stuff" that kids accumulate. There is one solution to this "toy problem" that is absolutely brilliant…giving the gift of an experience!
The joy of an experience can last a lifetime while even the hottest toy often ends up collecting dust in just a few months. Here are some amazing experiences gifts that are perfect for Northeast Ohio families.
Experience Gift Ideas
Majestic Meadows Alpacas & Boutique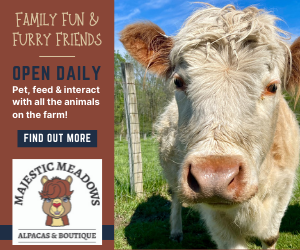 Fun for all ages! Come pet, feed and interact with all the animals on the farm!
Majestic Meadows Alpacas is the perfect place to relax and enjoy the beauty of the outdoors.
The 20-acre property includes open pastures for you to roam in which gives you a truly unique interactive experience that gets you up close and personal with all the animals on the farm as you walk through the fields.
The farm is home to over 75 alpacas, llamas, miniature cows, horses & donkeys, sheep, goats, kangaroos, wallaby, miniature potbellied pigs, camels, turkeys, ducks, rabbits, a tortoise and new for 2023 capybaras.
Open daily. Make reservations to experience the farm today!
Give the gits of lessons to try something new or continue an activity they already love. Get inspiration from these Kids Classes & Extracurricular Activities.
Passes or gift cards to one of the many indoor play centers or ninja obstacle courses are a fun way to get kids moving. Save the passes for the upcoming winter days when it's too cold to play outside.
Gibe the gift of adventure with one of our scavenger hunts designed specifically for families. Deal Alert -> Grab the ultimate Northeast Ohio Scavenger Hunt Bundle to get all 8 unique scavenger hunts.
A membership to one of the amazing museums in Ohio is another great option. Many offer reciprocal admission privileges to participating museums across the country. That means you can use your membership to get in free (or with a discount) to another museum when you are traveling.
If your child is an animal lover, a day pass or membership to an area zoo, aquarium or animal reserve is a great option. Some locations even offer special behind the scenes tours and animal encounters to make it even more memorable.
There is something magical about seeing the world while rolling down the track on a train ride. Train lovers of all ages would love tickets for these popular train rides in Ohio. All Aboard!
Take your children to a musical or theater production geared toward children or acting classes and watch their imaginations soar.
Older children would definitely love a pass to play laser tag.
Creative Ways to Wrap Experience Gifts
To add to the fun, find creative ways to wrap the experience gift so it is fun to open.
For example, make opening the gift an adventure by drawing a map and sending your child on a treasure hunt for their gift. Frame tickets or gift certificates and then reuse the frame to display a picture of the experience after you've done it. Or put the gift inside a balloon for an exciting reveal!
The Gift of an Experience will last a Lifetime
Whatever experience you choose to give, you'll be glad you replaced some of the holiday "stuff" with an outing that will create a lasting memory.
Want more holiday fun? Check out our Christmas Events Guide filled with many fun things to do this holiday season.