The selection of zoos in Ohio offers a wide range of attractions for any animal lover. Whether you are hoping to take a trip through the rainforest, meet endangered species from the other side of the world, watch your little one feed a giraffe or take a stroll in a beautiful garden – the zoos in Ohio have you covered!
No matter the time of year, there are opportunities throughout the state to visit your favorite animals and participate in one-of-a-kind experiences. Be sure to check out the seasonal opportunities of each location before your visit.
Majestic Meadows Alpacas & Boutique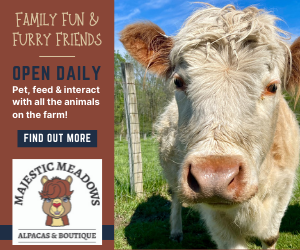 Fun for all ages! Come pet, feed and interact with all the animals on the farm!
Majestic Meadows Alpacas is the perfect place to relax and enjoy the beauty of the outdoors.
The 20-acre property includes open pastures for you to roam in which gives you a truly unique interactive experience that gets you up close and personal with all the animals on the farm as you walk through the fields.
The farm is home to over 75 alpacas, llamas, miniature cows, horses & donkeys, sheep, goats, kangaroos, wallaby, miniature potbellied pigs, camels, turkeys, ducks, rabbits, a tortoise and new for 2023 capybaras.
Open daily. Make reservations to experience the farm today!
Cincinnati Zoo & Botanical Garden
The second oldest zoo in the United States is located right here in Ohio! The Cincinnati Zoo & Botanical Garden has a large variety of animals, rides and attractions, behind-the-scenes opportunities and gardens. Hippo Cove is home to the World Famous hippopotamus's Fiona and Fritz!
On your visit you can experience the carousel, safari train and Kanga Klimb attractions. Want to stand toe-to-toe staring up at a giraffe, get up close to an owl or meet a world famous hippo and participate in training? You can purchase additional unique, firsthand experiences.
While you are visiting, don't forget to check out the gardens! With thousands of plants on display throughout the year, guests have the chance to view a wide variety of colorful, native plants. Check the website before your visit for special events, such as the tulip display in the spring or seasonal classes they offer.
The zoo's conservation efforts include The Lindner Center for Conservation and Research of Endangered Wildlife's (CREW). The funds are used for most effectively conserving wildlife.
Stay nearby at the Graduate Cincinnati hotel with a special zoo rate (the Fiona: Queen of the Zoo Hotel Package).
Cincinnati Zoo & Botanical Garden
3400 Vine St, Cincinnati, OH 45220
Website
You may be interested in: More fun things to do in Cincinnati
Columbus Zoo and Aquarium
The Columbus Zoo and Aquarium houses more than 7,000 animals. Jack Hanna became Director Emeritus in 1978 and helped transform the Columbus Zoo into the world class organization it is today. You can participate in hands-on tours and experiences that allow you to go behind-the-scenes and get up close to the animals.
The zoo assures you that "no two visits are the same!" From lions to polar bears to bald eagles you will meet a new friend each time, and with their interactive animal guide you'll learn something new along the way.
Separate attractions owned by Columbus Zoo and Aquarium are: The Wilds, an immersive safari experience of rare and endangered species, as well as interactive hands-on and educational opportunities; Zoombezi Bay, an outdoor waterpark; and Safari Golf, an 18-hole golf course.
The local attractions of the zoo and aquarium bring millions of visitors each year, allowing a global impact in their conservation efforts.
Columbus Zoo and Aquarium
4850 W Powell Rd, Powell, OH 43065
Website
You may be interested in: More fun things to do in Columbus
Cleveland Metroparks Zoo
The Cleveland Metroparks Zoo is one of the most popular year round attractions in Northeast Ohio! Admissions to the zoo includes an indoor rainforest experience, as well as the main zoo area. Additional attractions, rides and feeding experiences are also available. Don't forget to check out what seasonal events may be occurring during your visit.
There are plenty of places to play, learn and explore! For an additional cost you can ride the train, watch a show at the 4-D theater, feed a giraffe, experience an Eagle Zip Line and more. The Cleveland Metroparks Zoo offers a tram service to different sections of the park. Take a look at the map and your desired exhibits to utilize this service.
The Cleveland Metroparks Zoo highlights its conservation efforts focusing on protecting wildlife, building conservation capacity and promoting conservation science.
Cleveland Metroparks Zoo
3900 Wildlife Way, Cleveland, OH 44109
Website
Akron Zoo
Akron Zoo allows visitors an up close encounter with more than 1,000 animals from around the world. Attractions include Curious Creatures, Grizzly Ridge, Komodo Kingdom, Legends of the Wild, Penguin Point, Pride of Africa, Wild Asia and the Gardens.
The Akron Zoo is a manageable size with smaller children and exhibits are fairly close together. Additional opportunities for little ones can be found around the zoo such as the train ride, carousel, otter slide, play areas and more.
The Akron Zoo is accredited by the Association of Zoos and Aquariums (AZA) in its efforts for modern day conservation and education.
Akron Zoo
500 Edgewood Ave, Akron, OH 44307
Website
You may be interested in: More fun things to do in Akron
Toledo Zoo and Aquarium
The Toledo Zoo and Aquarium has a little something for everyone! Feed giraffes one-on-one at Tower Ridge. Jump deeper into the history of animals at Promedica Museum of Natural History. Experience new heights with the Aerial Adventure Course. Bring your littlest animal lover to a world built for their size at Nature's Neighborhood. Make waves with more than 3,000 aquatic animals at the aquarium.
Toledo Zoo and Aquarium sends its employees around the globe to help with conservation efforts, and does local work in Northwest Ohio through their Wild Toledo program.
Before you go, take a look at the entrance requirements – including food limitations and entrance points. Also, make sure to check out the seasonal special events, live animal shows and more to mark your calendar for your visit!
Toledo Zoo and Aquarium
2 Hippo Way, Toledo, OH 43609
Website
You may be interested in: More fun things to do in Toledo
African Safari Wildlife Park
A real life safari right in Ohio awaits you at African Safari Wildlife Park! You'll get the chance to encounter roaming animals throughout the more than 100 acres. The park allows you the option to drive-through the park in your own vehicle or walk through the park.
Your admission also includes the EdZOOcational Animal Program and the HogWILD experience. You can add to your visit with the Zoo-it-All Pass which includes things like a camel ride, animal feeding and additional animal encounters.
African Safari and Wildlife Park supports conservation efforts both locally and globally, including their own non-profit, Guardian of Wildlife, established to protect worldwide conservation efforts.
Be sure to check the website to ensure they are open for the season.
African Safari Wildlife Park
267 S Lightner Rd, Port Clinton, OH 43452
Website
You may be interested in: More fun things to do in Sandusky
Lagoon Deer Park
Take a stroll with animals from every nation at Lagoon Deer Park. As you walk, you can feed animals and have them join you on your journey. Then you can spend time fishing in the shaded lagoons.
For fishing, the water is restocked regularly with a variety of fish. You can even bring your own flat bottom boat. Be sure to bring your own poles, but no fishing license is required.
Check out the website for seasonal hours, group visits and more!
Lagoon Deer Park
1012 Martins Point Rd, Sandusky, OH 44870
Website
Noah's Lost Ark Exotic Animal Sanctuary
Lions and tigers and bears…oh my! Noah's Lost Ark Exotic Animal Sanctuary gives you the rare opportunity to catch a glimpse of exotic animals that they have rescued! Admission includes a self-guided tour of the sanctuary.
As a no-kill facility, these previously unwanted or abused animals are given a safe space to live out the rest of their lives. On your visit you can learn more about the issues facing abandoned exotic animals, as well as a larger issue of extinction.
Much of the sanctuary grounds is paved in gravel and easy to walk. Also, wagons are available for rent. Check out the website for seasonal details, as well as on-site education programs.
Noah's Lost Ark Exotic Animal Sanctuary
8424 Bedell Rd, Berlin Center, OH 44401
Website
Tips for Visiting an Ohio Zoo
Plan ahead for which zoo you would like to visit – Using our list you can decide which zoo best fits the experience your family is looking for and plan accordingly. Also, make sure you check each location for their seasonal experiences to see if there's something special going on during your desired visit time. With so many great zoo experiences throughout Ohio you can even plan to visit each location and check them off as a family as you go!
Plan out your visit – Each location has a lot to do, and you want to ensure you are experiencing all your favorite attractions. Check out the site maps, current events and behind the scenes opportunities to make sure you are getting the most out of your visit! Also, many locations have on-site food locations and/or restaurants nearby. If you are staying overnight, check to see if the zoo offers local hotel deals or recommendations.
Be prepared for walking – All of the zoo locations require a lot of walking! Many of them have some sort of tram available, so be sure to check that out and plan ahead to utilize those services. Also, look into stroller/wagon rentals for little ones or plan to bring those with you. If you require additional help getting around be sure to check the website or call ahead of time.
Check out the zoo rules/requirements – Each zoo has a different set of onsite requirements. Some do not allow outside food, some have free parking, some have construction and require a different entrance point than usual. Be sure to check this out before arriving.
Be aware of special events – The zoos offer seasonal special events from behind-the-scenes experiences with the animals to special classes on gardening. If you have a favorite animal or special interest make sure to check out the calendar ahead of time so you can potentially plan your visit for one of those activities. Also, some add on activities are offered at a discount if you bundle them. It is worth looking into those specials to make the most of your trip to the zoo.
Review your food options – Most of the locations allow you to bring food on-site. If the zoo does not allow food, be sure to pack a lunch or bring a healthy snack for the family. You can also plan to eat at one of the concessions or restaurants at the zoo or nearby, so check the website for food details. Ensure you pack a water bottle or drinks, as you will be doing a lot of walking.
Plan for Ohio Weather – Although some locations are only open from spring to fall, others are open year round. Whether you need to think about hats and mittens, layers or sunglasses and sunscreen, be sure you are checking the forecast and planning accordingly. Also, don't forget to wear comfortable shoes.
Bring Extra Cash – Almost every location offers visitors some "extras" as they walk through the parks. If you want to buy food to feed an animal, a ticket for a carousel ride or an ice cream cone, having a few extra dollars on hand will be helpful.
Consider purchasing a membership – Before you go, make sure you look into the zoos membership options. Many locations offer great family rates so you can visit more than once throughout the year. Also, some of the zoos participate in a reciprocal program, so if you plan on visiting other zoos in-state or around the country you can receive an additional discount.
Don't forget your camera – Part of the fun of the zoo experience is interacting with the animals! All locations offer unique photo opportunities and experiences throughout the parks. Capture the moments with your friends and family and keep those memories with you forever.
More Fun Things to do in Ohio:
Aquariums in Ohio – 3 of the best locations to see underwater creatures + one bonus must visit location.
Petting Zoos – Get up close with farm animals, meet the farmers, and learn about the farm
Outdoor Activities – Over 23 ideas for an outdoor adventure