This list is for all the animal lovers out there! Feed exotic animals from your car, enjoy various zoo programs throughout the year, underwater adventures, drive thru safaris and much more.
Tip: Are you already a member of one of these locations? Check out their reciprocal admissions list. Most of these locations give large discounts to members of other zoos/aquariums.
Note: As usual, contact information is provided. Please call to confirm hours and pricing or check the websites listed before planning your trip.
Majestic Meadows Alpacas & Boutique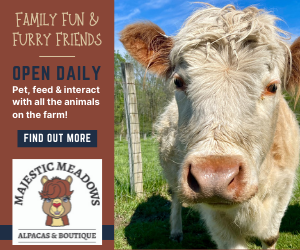 Fun for all ages! Come pet, feed and interact with all the animals on the farm!
Majestic Meadows Alpacas is the perfect place to relax and enjoy the beauty of the outdoors.
The 20-acre property includes open pastures for you to roam in which gives you a truly unique interactive experience that gets you up close and personal with all the animals on the farm as you walk through the fields.
The farm is home to over 70 alpacas, llamas, miniature cows, horses & donkeys, sheep, goats, two red kangaroos, miniature potbellied pigs, a dromedary camel and a tortoise.
Open daily. Make reservations to experience the farm today!
African Safari Wildlife Park
Enjoy a Drive-Thru or Walk-Thru safari, ride a camel, feed a kangaroo, and more! Most activities are closed during the colder months so check their website before you go. Tip: This park usually has discounts on their website and Groupon! {Website}
Where: 267 S. Lightner Rd., Port Clinton, OH 43452
You May Be Interested In: Our Review of African Safari Wildlife Park
Akron Zoo
This zoo is perfect for a quick day trip! It is a smaller zoo which makes it great for families with younger children. They also have numerous special events throughout the year so make sure to check their website. Tip: Summit county residents can receive free "community day" tickets. Their website lists the specific days for each city. {Website}
Where: 500 Edgewood Ave., Akron, OH 44307
You May Be Interested In: Our Review of the Arkron Zoo
Cleveland Metroparks Zoo
There is so much to do at this zoo! This zoo is so large, we usually only do half of it each visit. The elephant exhibit is a huge favorite in my house. In the winter months, visit the indoor "rainforest" which has some great animals and an exhibit that simulates a rainstorm. Tip: Mondays are free for Cuyahoga County residents. If you aren't a resident though, I don't recommend going those days since it can get very busy. Also, during the cooler months make sure to pack a lunch since most of the food locations are closed during the offseason. {Website}
Where: 3900 Wildlife Way, Cleveland, OH 44109
You May Be Interested In: Our Review of the Cleveland Metroparks Zoo
Greater Cleveland Aquarium
Check out fish from Ohio's lakes and rivers, feed a stingray, or walk through the shark seatube. Check out their website for daily activities and special events. Plan to be here at least 90 minutes to make sure you see everything and tickets are good all day so you can take the family out to lunch and come back! Tip: Discounts coupons are available through several partnerships and promotions. Check their website for details! {Website}
Where: 2000 Sycamore St., Cleveland, OH 44113
You May Be Interested In: Our Review of Greater Cleveland Aquarium
Metroparks Farm
FREE Admission to this 402-acre working farm. Open seasonally from April to October, they offer hands on activities, a natural playground, archery range, and more! {Website}
Where: 7574 Columbiana-Canfield Rd., Canfield, OH 44406
Noah's Lost Ark Exotic Animal Sanctuary
This non-profit, animal sanctuary features a wide array of exotic animals. They are open from the middle of May until the end of October. Check their website for seasonal hours. {Website}
Where: 8424 Bedell Rd., Berlin Center, OH 44401
The Farm at Walnut Creek
Take a 2.3 drive-through tour or take a one hour wagon ride to visit several types of exotic animals. Their hours vary throughout the year so check their website or call ahead. {Website}
Where: 4147 CR 114, Sugarcreek, OH 44681
The Ohio Bird Sanctuary
Check out several types of exotic birds year round. They also offer a Children's Nature Scape, trails, and a picnic area at no charge. {Website}
Where: 3774 Orweiler Rd., Mansfield, OH 44903
Wagon Trails Animal Park
Take a guided tour through 60 acres to see more than 350 animals from around the world. There are several opportunities to feed the animals throughout the tour. The park is open from May through October. {Website}
Where: 907 Youngstown Kingsville Rd. SE, Vienna, OH 44473
You May Be Interested In: Our Review of the Wagon Trails Animal Park