A few weekends ago the kids and I made a trip to Carolyn Ludwig Mugrage Park located in Media County. It's a huge park that recently went through some renovations that include a new inclusive playground, a dog park and a fun storywalk trail. Below are pictures and details about all the park has to offer.  Enjoy!
Inclusive Playground at Carolyn Ludwig Mugrage Park
Upon arriving at the park, we headed straight for the playground. It was completed in the fall of 2014 and it beautiful. It has a soft rubber surface and a wide variety of things for kids to play on, including many slides, bridges, ramps and platforms.
A small toddler play structure is also located at the park, complete with small scale slides and platforms.
The swing set includes regular, infant and inclusive swings.
There is also a unique designed merry-go-round that the kids enjoyed playing on.
And some rock climbing walls.
And when nature calls, there are bathrooms conveniently located right next to the playground.
Fishing Pond at Carolyn Ludwig Mugrage Park
Also near the playground is a very large 3-acre fishing pond. While we were there, many families were fishing at the waters edge. The fishing is catch and release only
StoryWalk and Nature Trails at Carolyn Ludwig Mugrage Park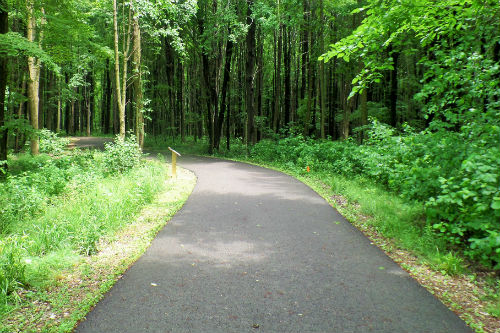 The beginning of the StoryWalk trail is located next to the playground and allows families to enjoy a book while walking the one mile trail.
As we walking along the paved trail through the woods, we stopped at each sign post to read the story. The story was about nature and was very fitting for a walk through the woods. Each page had an interactive component and we loved reading as we walked the trail.
The trail is a cooperative effort between the Medina County Parks and the Medina County District Library and they plan to update the story each season.
In addition to the StoryWalk trail there are some nature trails throughout the park. These are more traditional trails through the woods and are not paved.
To add in thee fun of hiking, there are nature boxes located at the beginning and the end of the nature trail. The boxes include a variety of items including nets, magnifying glasses, nature books, shovels and more. The idea is that visitors can borrow some of the items to use while they are hiking in order to explore nature.
Dog Park at Carolyn Ludwig Mugrage Park
For all those dog lovers out there, you will love the huge dog park that was just built. The dog park is completely enclosed by a five-foot high fence that provides over an acre of space just for small dogs and a separate area for large dogs that is over six acres. Both sides have open turf play areas, wooded natural areas, and gravel walking trails. There is even a pond for the larger dogs to play in.
Carolyn Ludwig Mugrage Park Playground Features & Amenities
In total the entire park is over 102 acres and includes all of the following:
Multiple Paved Parking Lot
Reservable Pavilion with picnic tables
Restrooms
Walking Trails – including the StoryWalk Trail and Nature Trail
Drinking Fountain
Lots of Green Space
Inclusive Playground

Multiple Bridges
Multi-levels
Climbing Walls
Swing-sets (Regular, Infant, Inclusive)
Toddler Area
Multiple Slides
Merry-go-Round
Interactive, educational games

Catch & release fishing pond
Dog Park

Designated sections for Small Dogs and Big Dogs
Open turf play areas
Wooded natural areas
Gravel walking trails
Carolyn Ludwig Mugrage Park {Find Out More}
4985 Windfall Road Medina, OH 44256
330-722-9364
You may also be interested in: