This unique fire station themed playground is located next to Fire Station #3 in Stow. The playground equipment is brightly colored and unlike any other playground in the area. Plus there is also a mini city that kids can ride their bikes through right by the playground.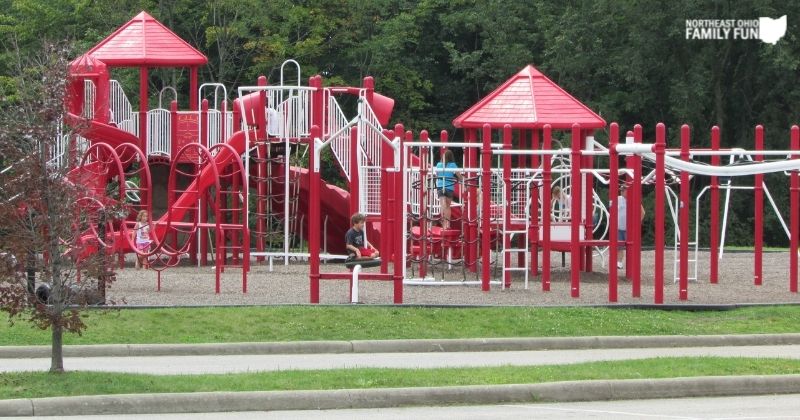 All About KidStation Playground in Stow
KidStation Playground was built in 2005 and is very unique. It's a fire station-themed playground with multiple fire truck play structures for kids to climb on and pretend to drive, slides of all different shapes and sizes, rock walls, fun ladders, and various things to climb on.
There are also a few swings for the kids to enjoy. Note that there are no infant swings available. Overall, it's a great playground and the fire station theme made it even more fun.
Helpful tip: There are no restrooms located at the park. During the summer months there is often a porta-potty available but it's only there seasonally.
All About Safety Village in Stow
Safety Village was built in 2007 and is located in Oregon Trail Park in Stow. It is conveniently located next to KidStation Playground so kids can easily walk between the two.
The miniature city has paved roads that kids can drive their bikes on. The road signs and traffic stops provide a great opportunity to teach your kids the rules of the road in a fun and safe environment.
And the entire village is made up of miniature replicas of establishments located in the City of Stow.
Tips for Your Trip from Other Parents
This is a really great playground for older. The equipment is large and has more complex climbing structures. I would not recommend bringing toddlers here unless you are going to play with them the entire time.
There isn't any shade which means the slides can get hot at times. Plan to visit earlier in the day or later in the evening and remember the sun block when you do.
If you have bikes remember to bring them so the kids can ride around the little city located next to the playground.
Do you have a tip about KidStation to share? Leave a comment below to let us know. Thanks!
Kid Station Playground and Safety Village Features & Amenities
Located in Oregon Trail Park
Plenty of Parking
Picnic Tables located throughout the Park
Restrooms (Porta Potty)
Drinking Fountains
Sports & Recreation at Oregon Trail Park

Soccer Fields
Baseball Fields
Skate Park

Plenty of Green Space and Shade
KidStation Playground

Fire Station Themed Playground
Multiple Bridges & Climbing Structures
Multi-levels
Climbing Walls
Miniature Fire Trucks
Swing-sets (Regular Swings Only)
Toddler Area
Multiple Slides

Safety Village

Miniature Village for Kids to Ride Bikes
Traffic Lights
Road Signs
Various Buildings (School, Fire station, Stores, Stow Parks & Rec, etc)
Kid Station Playground and Safety Village
4200 Fishcreek Rd., Stow, Ohio 44224
(330) 689-5100
Silver Springs (SOAR Playground & Bow Wow Beach), is another great park in Stow and it's located a short 10 minute drive from KidStation Playground.
You may also be Interested In: