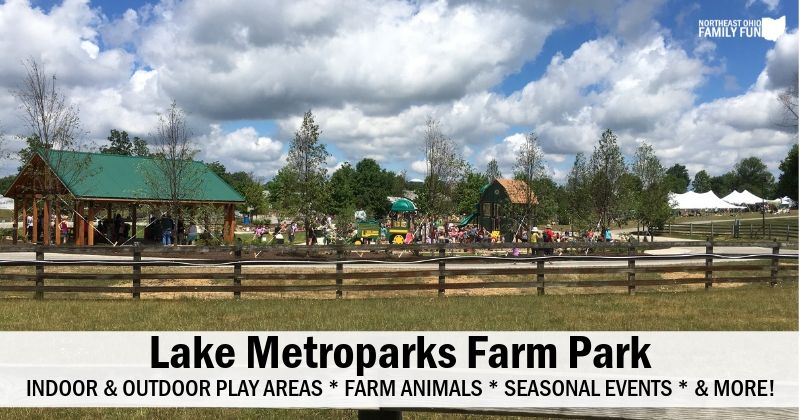 Fun for Kids and Kids at Heart at Lake Farm Park
There is an enormous parking lot at the front of the park. You have a lot of space to unpack and load up your stroller and bags. I would recommend bringing your own stroller or wagon, but they do rent wagons inside at the admissions area. Once you are inside the park, there are large horse or tractor-pulled wagons (covered in the cooler months) that can transport you from station to station.
You can bring your stroller or wagon right onto the transportation, which makes getting around extremely easy. I will also point out that walking the entire park with your stroller is also very doable, and on a nice day would be a great option for truly experiencing the entire farm.
There is an indoor and outdoor play area, which is ideal for both chilly and warm temperatures. The indoor play area is more toddler or young child focused, however there are puzzles and games for older kids too.
The brand new outdoor play area, Showman's Circle, includes several farm-themed play sets. Tractors, barns, pigs and cows make for an ideal play and photo op area. There is also a new splash pad. This area is engaging and refreshing on a hot day.

If you are looking for a true farm animal experience, then look no further! These areas of the property have horses, cows, goats, sheep, pigs, chickens, bunnies and more. Depending on the season, you can often see the babies too. It really is a neat opportunity for kids to get up close to the animals and learn more about them in a natural farm setting.
Our absolute favorite part of the day was the pony ride. Bring extra cash for additional experiences like this. For a small fee we got to ride the pony, Ranger, around the indoor arena, and our son was in heaven. Make sure to check the website for specials and when the latest young animals were born.
There is a cute, wagon-inspired café with good food, but you can't bring your own food inside this area. If you plan on eating in the café they have a wide menu. They even do special food based on the theme of the day. For example, when we went during the maple syrup event, the café offered pancakes and maple syrup.
However, if you want to bring your own food, you can sit outside of the café area and enjoy your own snacks.
Tips for Visiting Lake Farm Park
Consider becoming a member if you plan to visit multiple times.

Bring along extra spending money for the many extra experiences offered at the park, including special pony rides and other activities.

Check their special events calendar so you can plan your visit to coordinate with your interests and purchase tickets well in advance of your visit because they sell out quickly.

Although the park is designed for children, keep a careful eye on younger children for their safety around animals.
Special Events at Lake Farm Park
The life of the farmer is busy and the Farm Park allows you to get in on the action through several different seasonal events. Maple syrup, cow milking, cheese making, the Working Dog Weekend, ice cream making, Vintage Ohio, a corn maze (just to name a few) and several other activities are all available at certain dates and times. Make sure to check the website so you don't miss out!
Horse- or tractor-drawn rides (handicapped accessible)
Visitor Center
Dairy Parlor
Dairy Processing Room (see how cheese is made)
Exhibit Hall
Theater/Courtyard
The Arena

Pigs, sheep, goats and chickens
The Grain Place
Stables
Indoor Arena
Shepherd's Field
The Barnyard (collection of farm animals)
Machinery Building
Plant Science Center
Field Crop
Woodland Center
Showman's Circle (outdoor play place and splash pads)
Indoor Play Area
J & J Café
Restrooms
Water fountains
Lake Metroparks Farm Park
8800 Euclid Chardon Rd, Kirtland, OH 44094
Website
You may also be Interested In: