The City of Stow has some amazing parks and playgrounds, one of which is Silver Springs Park which is home to SOAR Playground, Bow Wow Beach Dog Park and much more. Check out all there is to do at Silver Springs Park.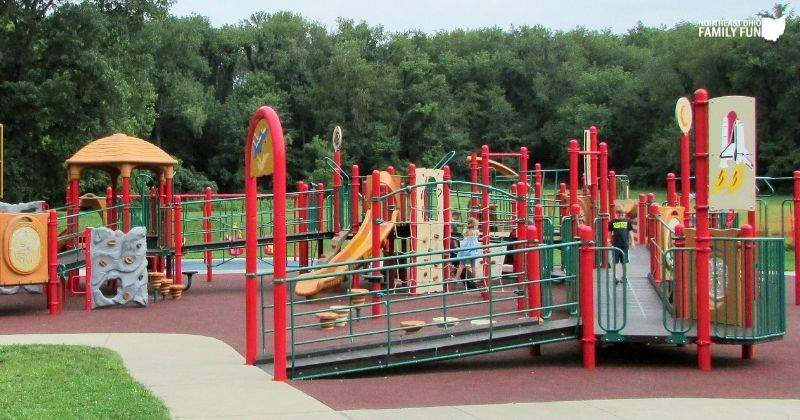 The park has so many sporting options, including basketball, tennis, volleyball and soccer. The courts and fields are in the front section of the park.
SOAR Playground
As you drive further into the park you'll find SOAR Playground a handicap accessible play structure. According to the City of Stow's website, the SOAR Playground was designed to insure that children of all abilities were able to play in a safe area created to meet their special needs.
The SOAR playground includes a variety of stimulating opportunities for self-directed, challenging and independent play. There is a large area design for children ages 5-12 with numerous bridges, slides, rock walls, interactive areas and more. In addition, there is also a small area designed for Toddlers (ages 2-5).
And two swing sets. The one shown above with accessible swing and infant swings and another swing set with 5-6 more accessible swings. About the only thing the park was lacking was regular swings. It would be nice if they added some of those as well.
Located directly beside SOAR Playground is the original play structure at Silver Springs Park. While the equipment here isn't all handicap accessible, it does offer some extra options for children playing in the park.
Bow Wow Beach Park
And last but certainly not least is Bow Wow Beach Dog Park a wonderful place to take your four legged friends. The 7 acre dog park is one of the best in the US and contains a lake for dogs to swim in, plenty of space for dogs to run and play and even some playground equipment for dogs.
Doesn't that look like fun?
Tips for Visiting Silver Springs Park
Be sure to take along bug spray for the trails and watch for poison ivy.

There is minimal shade at the playground. Plan to bring a hat or sunblock to protect yourself and your kids from the sun.

There are picnic tables throughout park. You can pack your own lunch or snacks to enjoy a picnic.
Silver Springs Park Features & Amenities
280 acre spacious park
Plenty of Parking
Multiple Pavilions with picnic tables
Picnic Tables located throughout the Park
Restrooms
Drinking Fountains
Sports & Recreation

Soccer Fields
Basketball Courts
Tennis Courts
Baseball Fields

Bow Wow Beach Dog Park

7-1/2 acre fenced-in dog park
Sandy beach and a 3 acre Lake dogs can play in
Dock jumping area
Separate areas for small and large dogs
Waste deposit stations
Dog washing stations

SOAR Playground (Handicap Accessible Playground)

Multiple Bridges
Multi-levels
Climbing Walls
Balance Beams
Tires
Swing-sets (Handicap Accessible, Infant)
Toddler Area
Multiple SlidesPavilions

Plently of Green Space and Shade
Walking Trails
Camping at Silver Springs
Located next to the Metro Parks Bike & Hike Trail
Silver Springs Park
5027 Stow Road, Stow Ohio 44224
Website
You may also be Interested In: