Because schools are closed to observe the holiday, you may be looking for fun things to do on Martin Luther King Jr. Day. Thankfully there are many fun activities planned. Some of the events are specifically designed to remember Martin Luther King Jr., while others are just fun options to get you out of the house.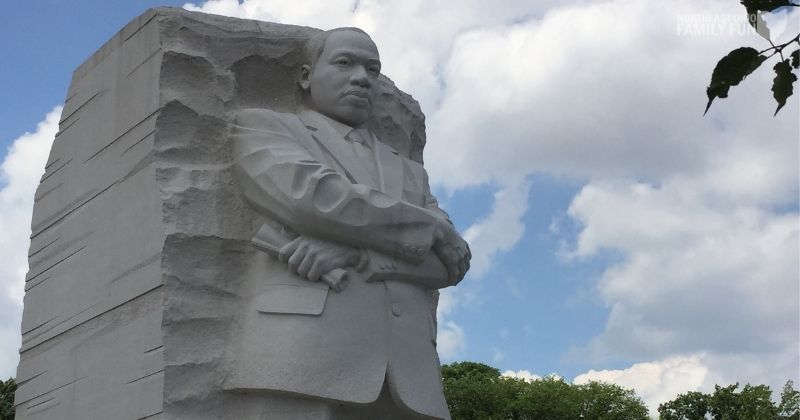 Make it a Museum Day
With 40+ fascinating museums in Northeast Ohio, it's not hard to find one that the whole family will enjoy with many offering special Martin Luther King Jr. programs and events.
You'll often find hands-on activities like arts and crafts from the Canton Museum of Art and Akron Art Museum and themed activities at the Cleveland Museum of Art, Greater Cleveland Aquarium, and Great Lakes Science Center.
Be sure to check below for our updated list of those offering FREE and discounted admission on MLK Day before you go.
FREE or Discounted Admission to Area Museums on MLK Day
FREE Admission to the Akron Zoo
Monday, January 17, 2022
Free admission for all guests. Parking rates apply. Tickets must be reserved online.
FREE MLK Day Celebration at the Akron Art Museum
Monday, January 17, 2022; 11 am-2 pm
The museum will be free and open all day and activities will be scheduled throughout open hours. Admission and activities are FREE and appropriate for all age levels.
FREE MLK Day 2022 at the Cleveland Art Museum
Monday, January 17, 2022; 10 am-5 pm
Enjoy free admission to the galleries and to the acclaimed, thought-provoking exhibition, "Picturing Motherhood Now." Pick up a free Family Discovery Pack or MLK Day Collection Connection Guide to explore artworks.
Hear Our Voices: FREE MLK Day Celebration at the Maltz Museum of Jewish Heritage
Monday, January 17, 2022
Tour the Maltz Museum's core collections at no cost. Free admission with advance registration. Limited, timed tickets available.
FREE Community Day with The Cleveland Orchestra
Monday, January 17, 2022; 12-5 pm
Family-friendly performances. Register for tickets online.
Spend the Day Out in the Fresh Air
The weather may be crisp but outdoor activities are a great way to take in some light and fresh air while having fun.
Take your camera with you on a winter hike or participate in a planned park event. Check for themed activities and special hikes planned for the day with Summit County Park District, Geauga Park District, and other local park systems.
Science Day at Jordan Creek Park
Monday, January 17, 2022; 9 am-5 pm
Join in for a guided adventure with a hike and hands-on experiments.
Try-It: Snowshoeing Scavenger Hunt at North Chagrin Nature Center
Monday, January 17, 2022; 10-11 am (WAITLIST) or 12-1 pm
Whether snow is here or not, you'll discover how fun yet challenging snowshoeing can be during these 1-hour "Try-It" sessions. Ages 5 and up. Register online. $5 per person.
Fun Day: Extreme Adventure at Penitentiary Glen Reservation
Monday, January 17, 2022; 10 am-3 pm
Plants and animals have EXTREME adaptations to help them survive. Discover these crazy features through fun games, activities, and live animals.
FREE Winter Science Day at North Chagrin Nature Center
Monday, January 17, 2022; 11 am-2 pm
Discover how local wildlife can be used to explore the fields of science, technology, engineering, and math. Fun, free, and family-friendly activities will immerse you in the amazing world of STEM education.
FREE Chickadee Feeding & Campfire at F.A. Seiberling Nature Realm
Monday, January 17, 2022; 1-3 pm
Warm-up by the fire while learning about Ohio's well-adapted resident birds, then hit the trail to hand-feed chickadees and their friends. Birdseed will be provided.
FREE Snowshoe Open House at Liberty Park Nature Center
Monday, January 17, 2022; 1-4 pm
Join a naturalist to learn about the history of snowshoeing, try on a pair, and maybe even walk around Bluebird Trail! Hot chocolate and a campfire will keep us warm. Snowshoes are available free of charge on a first-come, first-served basis.
FREE X-TREME Winter Fun Day! at Orchard Hills Park
Monday, January 17, 2022; 1-4 pm
Try snowshoes, bring your sled for some fun downhill rides, learn about winter wildlife, and warm up by a fire with hot cocoa and s'mores. Grades 5 through 10.
FREE Drop By: Rainbows at Brecksville Reservation
Monday, January 17, 2022; 2-4 pm
Drop by to learn about rainbows and create a colorful craft to take home.
MLK Day is also a great day to enjoy other winter activities. Take the kids for a fun afternoon of ice skating, sled riding, snow tubing, or cross country skiing. It can be fun to take a thermos of hot chocolate with you to enjoy a warm drink outside in the snow or in the car before heading home.
Stay Cozy with Indoor Fun
Depending on the weather or if your family prefers to stay warm and cozy during the cold days, there are plenty of fun things for you to do inside too. For active fun try a new indoor play center, laser tag, or obstacle course.
For educational fun, you'll find there are many community programs offering special indoor MLK Day events.
FREE Virtual MLK Day of Service: Making Seed Balls with Summit Metro Parks
Monday, January 17, 2022; 10 am-12 pm
Pick up a kit to make seed balls with and join a naturalist online for an informative hour celebrating Dr. King and his legacy. Register online.
FREE A Dream That Moves Us, an Interactive Family Event
Monday, January 17, 2022; 11 am-12 pm
Travel back in time to hear about Dr. King as a young boy through an interactive reading of the book "Who Was Martin Luther King, Jr.?" written by Lisbeth Kaiser and illustrated by Stanley Chow. Then, get moving with inspiration from Dr. King's famous "I Have a Dream" speech, set to music and dance by Karamu House! For Pre-K—5th graders and their families. Register online.
FREE Stop the Hate Essay Writing Workshop
Monday, January 17, 2022; 11-2 pm
During this one-hour workshop designed for 6th – 12th graders, Lake Erie Ink will provide insight on how to craft a personal essay that tells a powerful story. Learn tips and tricks for essay writing to give students an edge in the competition (and in future college applications)! For 6th—12th graders. Registration required.
FREE The Black Museum Movement in America: A Discussion with Dr. Khalid el-Hakim, founder of the Black History 101 Mobile Museum
Monday, January 17, 2022; 3-4:30 pm
This special MLK Day presentation will examine the significance of Black museums in America and the power of artifacts to tell complex stories about race and racism. Registration required.
MLK No School Special at Make Believe Family Fun Center
Monday, January 17, 2022; Open 12-8 pm
For $16.99, enjoy unlimited use of Ballocity Playground for up to 3 hours (kids age 4-12) and a $5 Game Card. This special also includes 2 slices of Cheese Pizza and a small Pop. Registration required.
MLK Jr. Day Special at Scene 75
Monday, January 17, 2022; 11 am-9 pm
50% off all attractions (excluding arcade games) on MLK Day only.
Martin Luther King Jr. Day Skate at Salem Fun Center
Monday, January 17, 2022; 12-4 pm
Special deal for MLK Day with unlimited skate rental, laser tag, bounce house, and play area (52″ and under).
Or have fun at home instead. We have a list of 85+ At-Home Activities for all ages.
You may also be interested in: Winter Fun Guide – 100+ Things to do this Winter