If luscious gardens filled with blooming flowers and paved pathways perfect for a leisurely stroll are calling your name. You simply must visit one of this impressive botanical gardens in Northeast Ohio where you can enjoy a peaceful escape and the beauty of nature.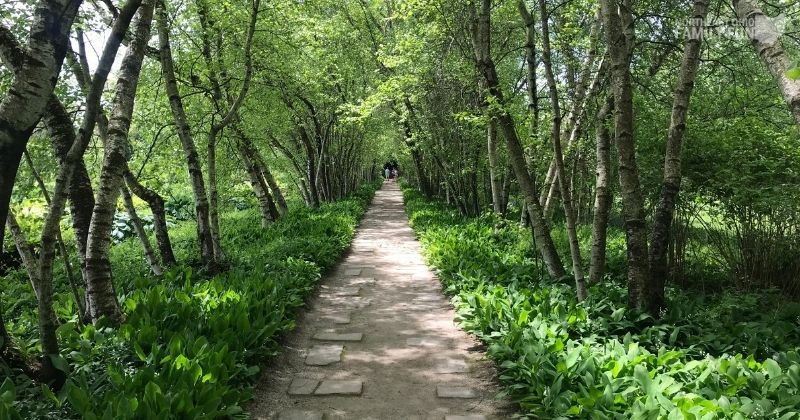 Each of these gardens offers something distinctive and fun. Explore the grounds on your own or take part in the variety of educational activities geared toward children and adults.
Cleveland Botanical Gardens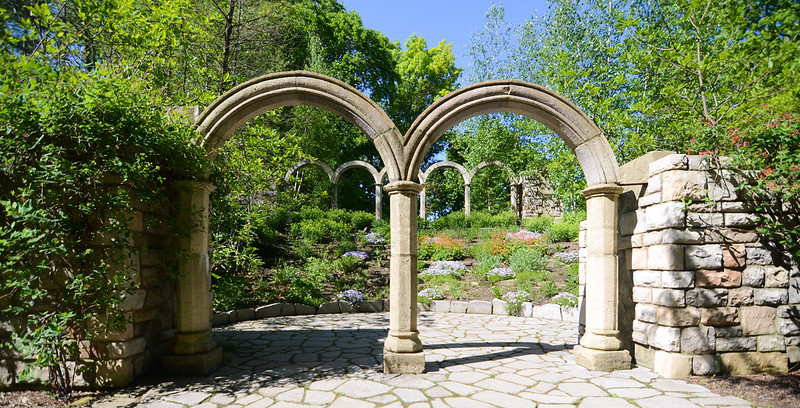 This garden is an ever-changing urban oasis that provides enrichment and inspiration through 10 acres of beautiful outdoor gardens, the 18,000-square-foot Eleanor Armstrong Smith Glasshouse, featuring the biomes of Madagascar and Costa Rica, as well as seasonal celebrations and exhibitions throughout the year.
Also part of Cleveland Botanical Gardens is the Hershey Children's Garden which contains a mix of mini ecological areas, including the pond, prairie, and woodland, as well as the manicured flower gardens and a two story tree house. Children 2 and under are FREE! {Website}
Where: 11030 East Blvd., Cleveland, OH 44106
Holden Arboretum
This gem, located in Lake and Geauga Counties, is a must-visit spot for anyone in Northeast Ohio. The arboretum covers 3,500 acres and features hiking trails, cultivated gardens and special collections, a Canopy Walk, the Emergent Tower, and a natural play area for kids. It's a great destination for families and people of all ages. Plus, it's dog-friendly, so you can bring your pup along to enjoy the fun. {Website}
Where: 9550 Sperry Rd., Kirtland, OH 44094
You May Be Interested in: Our Review of the Holden Arboretum
Stan Hywet Hall & Gardens

Open from April to December, the estate features a historic 65-room Tudor Revival Manor House, Curved Eave Corbin Conservatory, Gate Lodge, and approximately 70 acres of artistically landscaped grounds and formal gardens. Several events are held throughout the year. Children 5 and under are FREE! {Website}
Where: 714 N. Portage Path, Akron, OH 44303
You May Be Interested In: Our Review of Stan Hywet Hall & Gardens
Beech Creek Botanical Garden & Nature Preserve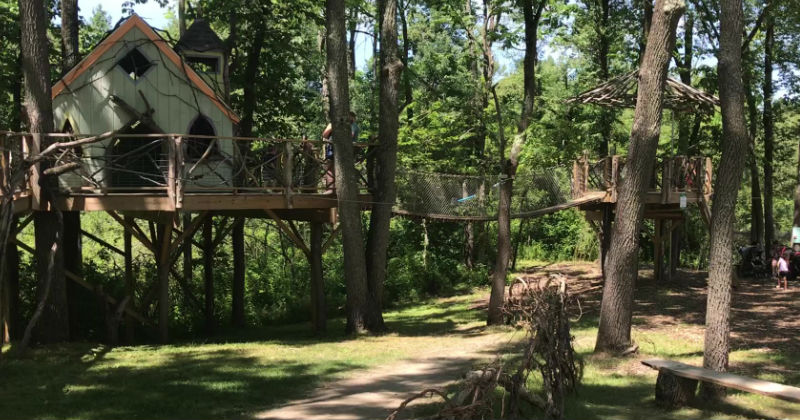 Located in Alliance, OH, Beech Creek Garden is a great place to relax and interact with nature. There is something for all ages and interests to enjoy, including hiking trails, 2-acre Nature Play playground, butterfly house (open in the summer months), and a plant science and nature center. They also host several events throughout the year including hand feeding wild chickadees and family yoga. {Website}
Where: 11929 Beech St. NE, Alliance, OH 44601
You May Be Interested In: Our Review of Beech Creek Garden
Clary Gardens
The 20-acre site is sustained by staff, volunteer service, and donations. They host several special events, workshops, and offer a Kid's Club for children ages 3 to 12. They are open daily and FREE to the public. {Website}
Where: 588 W. Chestnut St., Coshocton, OH 43812
Fellows Riverside Gardens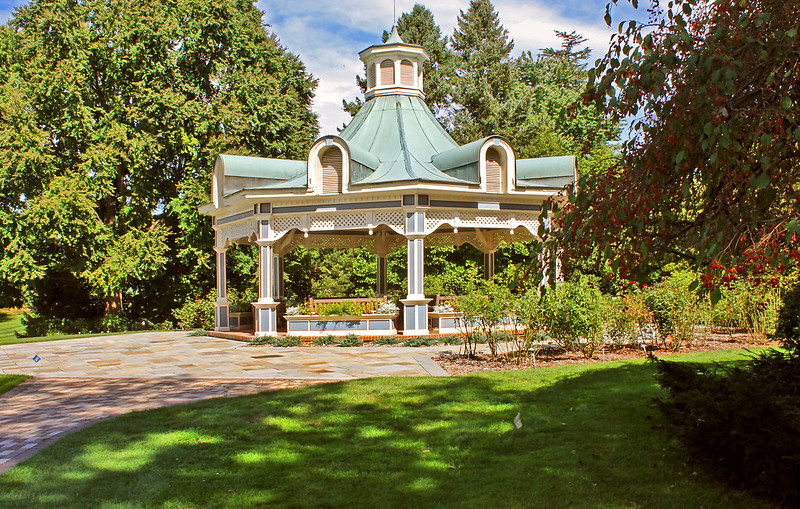 Fellows Riverside Gardens is a free public garden located at the northern end of Mill Creek Park. This 12-acre display garden features a landscape of remarkable beauty with diverse and colorful plant displays, roses of all classes, seasonal displays of annuals, perennials, flowering bulbs, and scenic vistas.
123 McKinley Ave., Youngstown, OH 44509
(330) 740-7116
Website
Schoepfle Garden
This truly unique park in the Lorain County Metro Parks system contains 70 acres of botanical gardens and natural woodland bordered on one side by the Vermilion River. The garden features collections of rhododendrons, roses, cannas, hostas, shade plants, and varieties of shrubs, topiaries and trees. Enjoy the natural beauty of the garden by participating in a guided tour or wandering at your own pace. Be sure to bring a camera! {Website}
Where: 11106 Market St., Wakeman, OH 44889
Secrest Arboretum
This beautiful arboretum offers many trails and themed gardens to enjoy as well as a natural play fortress and huge slide built into the hill. Well behaved, leashed pets are welcome to enjoy the gardens as well. They are open year-round and FREE to the public. {Website}
Where: 1680 Madison Ave., Wooster, OH 44691
You May Be Interested In: Our Review of Secrest Arboretum
Kingwood Center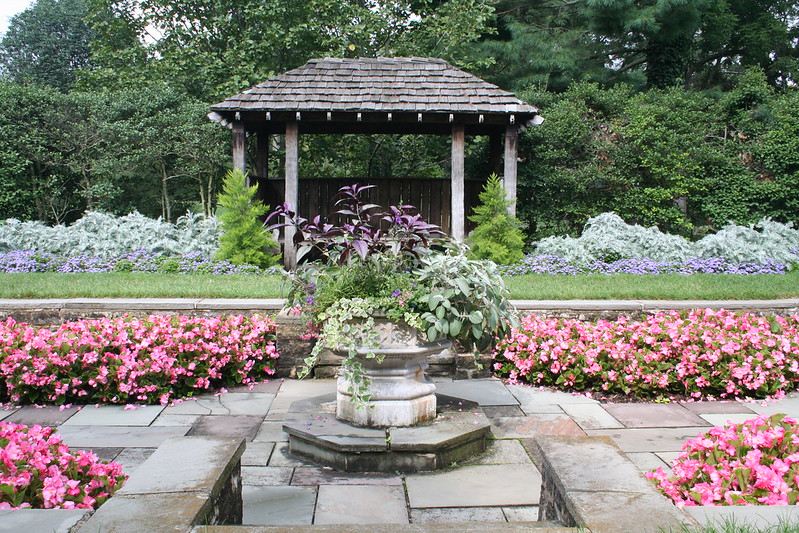 Open from April until October, Kingwood Center Gardens in Mansfield is a 47-acre former estate garden open to the public since 1953. The center offers several workshops and events, and children ages 12 and under are FREE! {Website}
Where: 50 N. Trimble Rd., Mansfield, OH 44906
Gardenview Horticultural Park
Open from April until mid-October, enjoy 6 acres of rare plants and flowers in a natural, cottage-style landscape. Non-members are welcome but are charged a small admission fee; children under age 5 are FREE. {Website}
Where: 16711 Pearl Rd., Strongsville, OH 44136
Rockefeller Park Greenhouse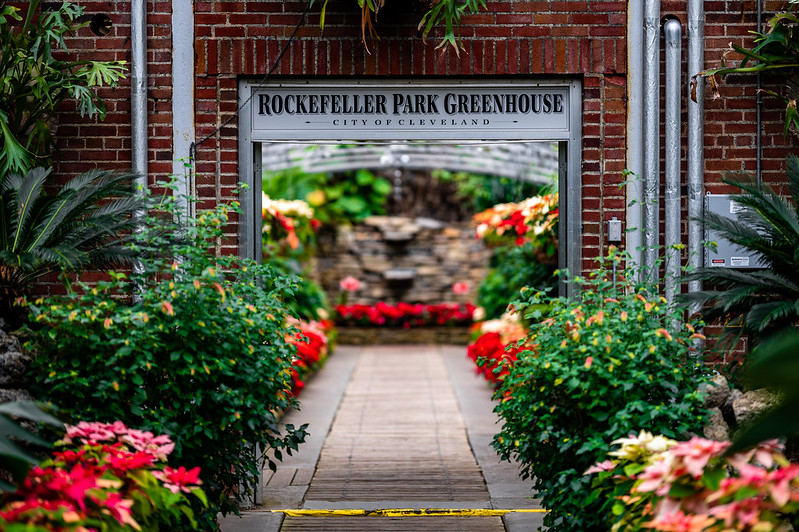 The greenhouse is dedicated to educating, fostering, and supporting gardening and how it enhances the quality of life both in itself and in partnership with the arts, education, and science. Explore luxuriant and peaceful specialty gardens featuring ADA-accessible walkways, tropical fruit trees, a garden for the blind, and spectacular seasonal displays. Parking and admission are free to the public. {Website}
Where: 750 E. 88th St., Cleveland, OH 44108
Canton Garden Center
The Canton Garden Center was organized in 1946 to maintain a Garden Center with a library offering free gardening information, unite the clubs and individuals in the common interest of home and community beautification, and to encourage and train youth in the appreciation of our natural resources. {Website}
Where: 1615 Stadium Park Dr. NW, Canton, OH 44718
(330) 455-6172
Schedel Arboretum & Gardens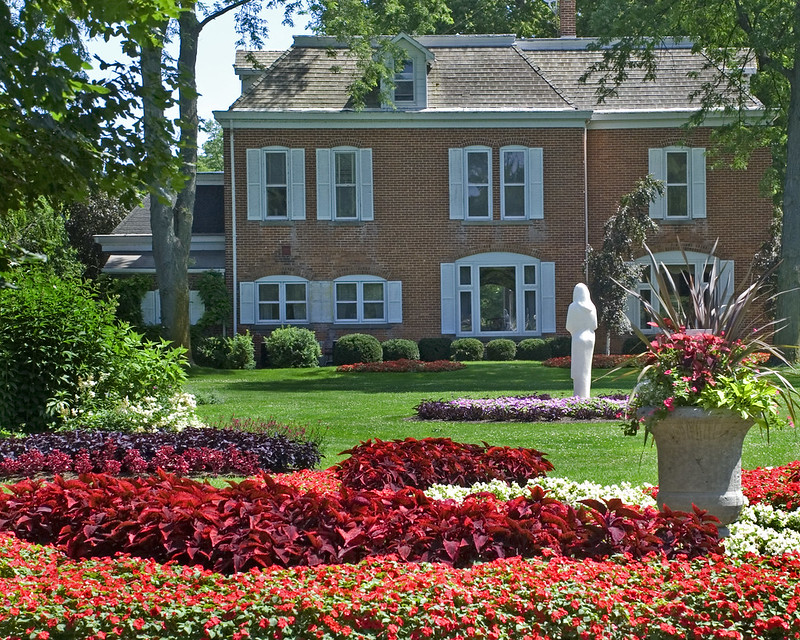 Open from April until the end of October, the gardens are home to many exotic species of trees and 10,000+ annual plants and flowers in several themed garden displays. Children 5 and under are FREE! {Website}
Where: 19255 W. Portage River South Rd., Elmore, OH 43416
You May Be Interested In: