Looking for a way to make Father's Day memorable for your dad? You're in luck because we've rounded up a long list of fun and unique things to do this Father's Day. Whether your dad prefers a low-key fishing trip, an extreme outdoor adventure, or something in between we've got ideas that will make him feel loved and appreciated.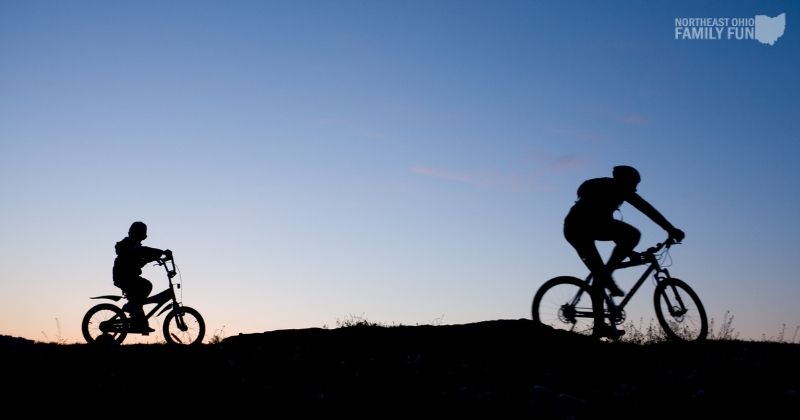 More Things to do on Father's Day
Float Down the River
If your dad likes the great outdoors, he's sure to enjoy a day on the water. Check out these great local spots where you can rent a Canoe or Kayak. Then enjoy the beautiful scenery, fresh air and get some exercise as you paddle around the lake.
Think he would prefer a leisurely float done the river on a tube? Then check out these options on the Cuyahoga River and the Mohican River. Sunglasses, hats, and sunblock are recommended.
Watch a Drive-in Movie
Show the kids what watching a movie was like in the good old days! We're fortunate to have many iconic drive-in movie theaters in Northeast Ohio. The prices are affordable and most have double features each night which means two movies for the price of one! Remember there is an additional charge to bring your own food and drinks.
Go Golfing (Frisbee Golf, FootGolf, and Mini Golf Count, too!)
Who knew there were so many ways to play golf. Choose to play as a family or let him spend part of the day at the course with his friends. Don't have time to play a full round? Head to the driving range instead. DEAL ALERT -> Check out these discounts on local golf courses before booking your tee time.
Perhaps putt-putt golf is more your style. Check out these area miniature golf courses. DEAL ALERT -> Get discounts on mini golf here. Some deals even include ice cream!
Not very good with a golf club, why not try out one of our local frisbee disc golf courses or make a course of your own using different objects (tree, post) as the "hole".
Or maybe footgolf is more your pace. Several area golf courses have holes specifically designed for footgolf players. The goal is to kick a soccer ball into a cup, and way more challenging than it sounds. Find a footgolf course near you.
Have a Scavenger Hunt Adventure
Our newly released scavenger hunts are perfect for your Father's Day adventure! Have a blast as you follow the map on a quest through an area park. Your team will look for clues, solve puzzles, and complete challenges all while making fun memories. Purchase your scavenger hunt now, and start your adventure any time!
Take Him Out to the Ball Game
You can create a mini ball game of your own. Head to a local ball field and play a game of catch, run the bases and see who can hit the ball the farthest.
Go on a Hike Together
Want to check out a waterfall? Head out on one of these waterfall hikes. Our top picks for easy to access waterfalls include Berea Falls, Chagrin Falls, Brandywine Falls, and the Gorge Metropark.
Of course, you could also hike along (and in!) the river. Our favorite spots include O'Neil Woods Metropark, Euclid Creek Reservation, Cuyahoga Valley National Park, Rocky River Reservation, South Chagrin Reservation. Remember to bring water shoes, sandals or even rain boots.
Maybe dad would prefer a picturesque view? Then check out the overlook at Cascade Valley Metropark, Chapin Woods Reservation Overlook, Tinkers Creek Overlook or the Ledges Overlook in the CVNP.
Picnic at the Park
Pack a lunch and have a picnic at a local park, bring along a kite to fly, or hike the trails. See if you can complete one of our Scavenger Hunt challenges and then stop for ice cream to make the day extra special.
Fire up the Grill and Have a Family Game Night
Would your dad prefer a more low-key day at home? Pick up some hamburgers and hot dogs (maybe a steak for dad!) and have a backyard barbecue. Play some yard games (try these water balloon games), break out a deck of cards or a board game, or try to stump one another with a game of 20 questions. Often it's the simple times that are remembered the most.
Plan a Camping Trip
Cooking over the fire pit, campfire stories, card games, and getting back to nature. Whether you plan to rough it with only a tent and hammock, bring along your RV or book a cozy cabin, there are many great campgrounds in Ohio you can choose from.
Go Fishing
If your dad likes to fish, join him on a family trip to the lake. Most kids enjoy learning to fish, even if they aren't typically enthusiastic about the outdoors. You can also use these 5 tips to help teach your kids to fish
Bring along some snacks and quiet activities (books, cards, coloring pages) just in case the kids get bored and want to leave before dad is ready to call it a day.
Zip Through the Trees
As long as dad isn't afraid of heights, zip lining may be the perfect father's day present. It's fun, unique and he'll likely always remember it After all there is nothing quite like the feel of flying and the bird's eye view you'll experience as you take in the world around you.
Challenge Dad to a Father's Day Competition
Head to a local amusement park and have a day of mini-challenges and friendly competition. Think go-karts, mini-golf, bumper boats, and batting cages. Everyone will come out a winner during this day of fun!
You could also try one of these area escape rooms to see if your group can solve the mystery before time runs out.
Plan a Road Trip
What to get away for the entire Father's Day weekend? Plan a road trip to check out Cincinnati, Columbus, Toledo or Dayton. Drive a little father and you could spend the weekend in Louisville, Indianapolis, or even Gatlinburg. Need some idea on things to do when you get these? Check out our Family Road Trip Ideas.
Or maybe you'd prefer to leave the kids at home and have a romantic getaway. We've got great ideas for that too including tree houses, quaint bed and breakfast spots, and more.
Looking for more ideas? Check out our Ultimate List of Things to do in Northeast Ohio
Happy Father's Day