Looking for a great activity the whole family can enjoy? Miniature golf is a fun way to get out of the house this summer and it doesn't cost a lot of money. Check out one of these courses today!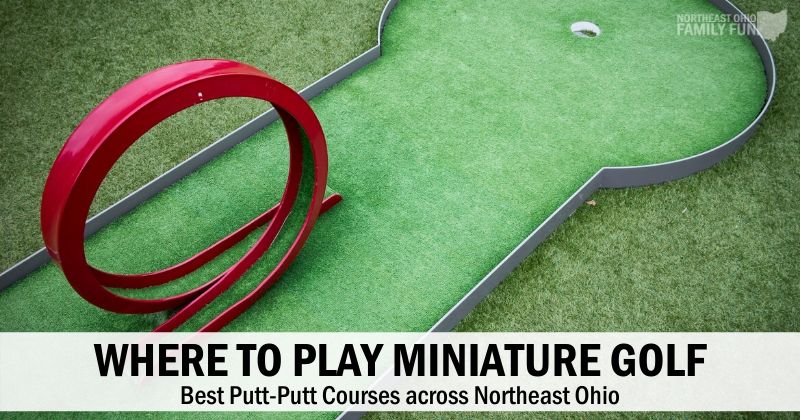 FREE TIME AND FUN TIMES...
Funtimes Fun Park is a growing, outdoor family entertainment center located in Alliance, Ohio on the corner of State Route 62 and State Street.
Featuring miniature golf, go-karts, batting cages, rides and more it is the place to be for local, summer fun with FREE parking and FREE gate (pay as you play).
NEW 2022! Rampage…A duel-lane, racing mega slide & Toot-N-Hoot kiddie, train ride…All Aboard!
COMING 2022! A-Ball-Mination…a game of fusion between laser tag and paintball!
Host your Birthday Party or Group Event at Funtimes Fun Park…you enjoy the fun while they entertain your guests with their party packages or group rates.
Check out funtimespark.com for NEW pass options including Unlimited Attractions with a Fun Day Pass, Sunset Pass or Season Pass. Discount days for grandparents, military and college students also available or visit us on select Thursday nights for the Fun Bunch Carload Special…it's a bunch of fun!
Special Discount -> Like Funtimes Fun Park on Facebook and Save $5 on a Fun Day Pass when you show this ad from your mobile device to an Admissions Attendant at the Clubhouse
Plus, visit this Fall for some frightful fun beginning weekends September 23rd thru October 31st for their Halloween event featuring the Fortress of Fear Haunted Attraction.
Jump To: Ashtabula County | Cuyahoga County | Geauga County | Lake County | Lorain County | Mahoning County | Medina County | Portage County | Stark County | Summit County | Trumbull County | Tuscarawas County | Wayne County
Map of Miniature Golf Courses

Find Miniature Golf Near Me
Miniature Golf Courses in Ashtabula County
Adventure Zone
5600 Lake Rd. E, Geneva-on-the-Lake, OH 44041
This Par 51 Adventure Golf course is challenging enough for a serious duffer, yet provides lots of fun for 'kids' of all ages. And children under 58″ get a specially discounted "Adventure Golf Jr." pass for the course.
(440) 466-3555
Website
Allison's Mini Golf
5456 Lake Rd, Geneva-on-the-Lake, OH 44041
Established in 1924, this family owned business is the the oldest miniature golf course in the United States in continuous play.
(440) 466-7922
Website
Miniature Golf Courses in Cuyahoga County
Memphis Kiddie Park
10340 Memphis Ave, Brooklyn, OH 44144
Opened in 1964, this course is designed to allow a skilled player to score a hole in one with no "pure chance obstacles".
(216) 941-5995
Website | Our Review
Sweeties Golfland
6770 Brookpark Rd, Cleveland, OH 44129
This location offers two eighteen hole miniature golf courses set on over an acre of natural landscape and stone. There are several special features including an illuminated castle and a water wheel. There are also free kiddie rides for children under 6.
(216) 472-1340
Website
Swings-n-Things
8501 Stearns Rd, Olmsted Township, OH 44138
Two courses to try, each with a different adventure featuring several breathtaking scenes including a 35′ high Magical Castle, a giant Lighthouse and water-churning sawmill.
(440) 235-4420
Website
The Golf Dome
8198 East Washington St, Chagrin Falls, OH 44023
A fully landscaped 18-hole course features three winding streams and a 20 foot waterfall.
(440) 543-1211
Website
Miniature Golf Courses in Geauga County
Chip's Clubhouse
214 5th Ave, Chardon, OH 44024
An 18 hole course with several water features including a waterfall!
(440) 285-3456
Website
Miniature Golf Courses in Lake County
Red Mill Golf
4243 Red Mill Valley Rd, Perry, OH 44081
A beautifully manicured course. Discounts available for young children.
(440) 259-4211
Website
Miniature Golf Courses in Lorain County
Sportsville
37500 Center Ridge Rd, North Ridgeville, OH 44039
This course is beautifully landscaped with lush plants, trees and plenty of shade. It has multiple water features, rivers, bridges and hazards that can take your shot downstream!
(440) 327-3040
Website
Sundae Funday's
25145 Royalton Rd, Columbia Station, OH 44028
An 18 hole course with a Wild West theme.
(440) 236-3663
Website
Sweeties Golfland North Ridgeville
7760 Victory Ln, North Ridgeville, OH 44039
One 18-hole resort style miniature golf course (with a bonus hole) set on over an acre and a half of natural landscape and stone
(440) 954-8730
Website
Miniature Golf Courses in Mahoning County
Sports World
8249 South Ave, Boardman, OH 44512
An 18-hole Myrtle Beach style Adventure Golf course with a scenic light house and multiple waterfalls.
(330) 726-1757
Website
Miniature Golf Courses in Medina County
Alien Vacation Mini Golf
260 South Court St, Medina, OH 44256\
Glow-in-the-dark golf course located in the lower level of Castle Noel. Lasers, fiber optics, and incredible FREAKY 3D illusions.
(440) 453-5889
Website
Buzzard Cove
1053 Bellus Rd, Hinckley, OH 44233
Two, 18-hole courses styled in an adventurous pirate theme.
(330) 278-2384
Website
Scene75 Cleveland
3688 Center Rd., Brunswick, OH 44212
Two, indoor 9-hole blacklight courses painted with 3D effects.
(234) 206-2606
Website
Miniature Golf Courses in Portage County
Birdie Shack
2567 State Route 59, Ravenna, OH 44266
One, 18- hole course.
(330) 678-3838
Website
Miniature Golf Courses in Stark County
Akron-Canton Jellystone Park
12712 Hoover Ave, Uniontown, OH 44685
A newly landscaped 18-hole outdoor miniature golf course featuring obstacles and challenges for all ages.
(330) 877-9800
Website | Our Review
Funtimes Fun Park
12175 State Street NE, Alliance, OH 44601
One course with discounts for children.
(330) 823-3933
Website
Rolling Greens Miniature Golf
2939 Edison St. NW, Uniontown, OH 44685
Two challenging courses locally owned and operated since 1959.
(330) 699-9900
Website
Sluggers & Putters Family Fun Park
333 Lafayette Dr. NW, Canal Fulton, OH, 44614
A 19 hole course with lots of shade! Themed from The Wizard of Oz and Mother Goose Nursery Rhymes with props and artifacts saved and rescued from the original Mother Gooseland in Canton, Ohio dating back to the 1950's
(330) 854-6999
Website | Our Review
Miniature Golf Courses in Summit County
Downview Sports Center
1621 Bailey Rd, Cuyahoga Falls, OH 44221
An 18 hole course accessible to family members of all ages.
(330) 971-8418
Website
Fun 'n' Stuff
661 Highland Rd. E, Macedonia, OH 44056
An 18 hole pirate themed course. COMING AUGUST 2019* an 18-hole mini golf course will feature numerous animatronic Dinosaurs that move & even roar!
(330) 467-0820
Website
Sto-Kent Family Entertainment
3870 Fishcreek Rd, Stow, OH 44224
*THIS LOCATION IS CURRENTLY CLOSED FOR RENOVATIONS*
(330) 673-1718
Website
Stonehedge
580 E Cuyahoga Falls Ave, Akron, OH 44310
18 holes of just enough 'challenge' to entertain all ages.
(330) 928-2161
Website
Miniature Golf Courses in Trumbull County
Putt-Putt Fun Center of Warren
3937 Youngstown Rd, Warren, OH 44484
An authentic Putt-Putt Course specially designed by Donald Clayton, the founder of Putt-Putt Golf, to challenge your putting skill.
(330) 369-1965
Website
Miniature Golf Courses in Tuscarawas County
Cabin Creek Golf
1361 County Road 108, Sugarcreek, OH 44681
Two, 18-hole courses that challenge your putting skills. There are four bridges, various water holes, a water wheel, a water geyser and many other interesting obstacles.
(330) 852.4879
Website
Tuscora Park
161 Tuscora Ave NW New Philadelphia, OH 44663
A course suitable for children of all ages.
(330) 343-4644
Website | Our Review
Miniature Golf Courses in Wayne County
Acres of Fun
3889 Friendsville Rd, Wooster, OH 44691
Acres of Fun's Miniature golf course is designed to feel like a walk in the park, a peaceful environment for all to enjoy.
(330) 345-4386
Website
Putt-N-Stuff
134 S Kansas Rd, Orrville, OH 44667
Come and enjoy 18 challenging holes at Putt-N-Stuff. Hit a hole-in-one, make a tricky bank-shot, or just enjoy the beautiful landscaping.
(330) 683-1800
Website
You May Be Interested In