Are you searching for a romantic getaway without leaving the kids too far behind? It is easy to get swept up in the day-to-day and forget to take a weekend (or two) to relax and unwind. We have compiled a list of some of Ohio's most magical, unique getaways for an escape right in your own backyard.
Enjoy our list of 14 most romantic getaways in Ohio!
Each of these hideaways has something distinctive and fun, which is sure to meet any of the weekend hopes you may be searching for with your significant other.
Belamere Suites
Belamere Suites Hotel creates the ultimate romantic getaways for couples, right in your own backyard. The hotel was created to give couples a place to escape while staying close enough to the kids, but still offering a true luxurious experience! With more than 30 years of hotel expertise, the owners pooled together all of their hotel favorites to construct the perfect romantic getaway.
What makes them unique?
Many of the suites offer your own indoor, private swimming pool
A-la-carte amenities to your liking
Attached, single car, personal garage
24-hour concierge service
Belamere Suites
12200 Williams Rd, Perrysburg, OH 43551
(419) 874-2233
Find Out More & Book Now
The Cincinnatian Hotel
The Cincinnatian Hotel has a rich history as a part of the downtown since 1882. It is just a quick walk to the major downtown area attractions and events. This is a perfect mix of relaxation and luxury steps away from the heart of the city.
What makes them unique?
The stylishly renovated rooms include modern amenities
The hotel's history can be seen in the marble staircase, artwork and atrium
Brick and Mortar, an upscale gastropub, and Hannaford Market, a casual dining atmosphere, are available for your dining experience
Other features include: a fitness center, business center, lounge and bar area
The Cincinnatian Hotel
601 Vine St, Cincinnati, OH 45202
(513) 381-3000
Find Out More & Book Now
Gervasi Vineyard

Video provided courtesy of Gervasi Vineyard
Winery tours, culinary classes, spa and yoga services, a variety of dining options and multiple places to stay are just some of the reasons to visit Gervasi Vineyard! You can truly customize your trip for just an afternoon experience or book a room in one of their Tuscan-inspired suites or Farmhouse for longer stay.
What makes them unique?
A stay in the Gervasi Villas gives you access to the Glenmoor Jack Nicklaus Signature Golf Course
There are three different dining options on the property
Hands-on culinary classes are available
There are different wine tour options, and you can try/buy their signature, award-winning wines
The Villas & Casa at Gervasi Vineyard
1700 55th St NE, Canton, OH 44721
(330) 497-1000
Find Out More & Book Now
Hotel LeVeque
Set within the iconic LeVeque tower, Hotel LeVeque offers character and luxury right in the heart of downtown Columbus. Modern amenities with a historic twist enhance your stay. Access to everything Columbus has to offer will provide an ideal romantic getaway.
What makes it unique?
The Keep Liquor Bar, a French brasserie and bar concept, is located on-site
The hotel has a 24/7 fitness center
The rooms are unique with a modern twist
An evening turndown service is available to enhance your restful experience
Hotel LeVeque
50 W Broad St, Columbus, OH 43215
(614) 224-9500
Find Out More & Book Now
The Inn at Honey Run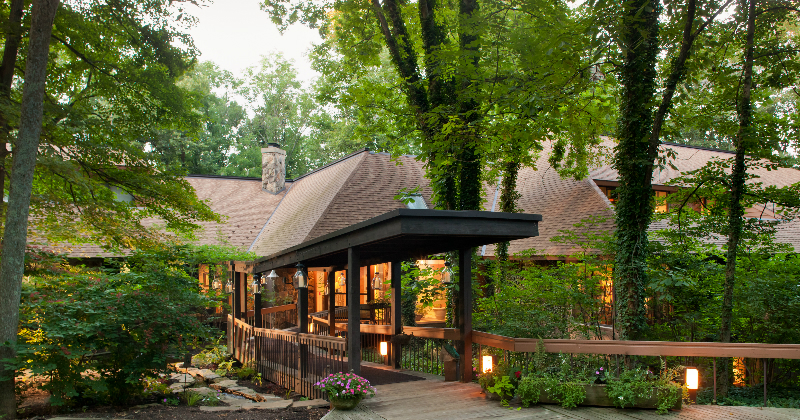 This boutique resort is set amongst 56 acres of gorgeous landscape and views. The adult-only inn is located in the heart of Amish Country and a tranquil retreat from everyday life. Escape stress with the one you love at this convenient, yet completely private hideaway.
What makes it unique?
The Tarragon restaurant is on-site for your dining needs
The Inn offers six walking trails with special attractions, including: a flock of sheep, bird watch and the Inn's Art Museum instillation
Honey is harvesting on-site, sold in the gift shop and used in the dishes at Tarragon
Several packages are available to enhance your stay
The Inn at Honey Run
6920 Co Rd 203, Millersburg, OH 44654
(330) 674-0011
Find Out More & Book Now
Inn and Spa at Cedar Falls
You can choose from 1840s log cabins, bed and breakfast rooms, charming cottages or cozy yurts for your stay at the Inn and Spa at Cedar Falls. Hocking Hills State Park surrounds the property on three sides offering gorgeous views and a plethora of outdoor activities. With luxury on the inside and beauty on the outside you are certain to have an ideal romantic getaway.
What makes them unique?
The Spa at Cedar Falls offers a variety of romantic vacation packages
Located on property is Kindred Spirits restaurant for your dining needs
Workshops, retreats and cooking classes are available throughout the year
A hearty, complimentary breakfast is served for all guests
Inn and Spa at Cedar Falls
21190 State Route 374, Logan, OH 43138
(740) 385-7489
Find Out More & Book Now
Lafayette Hotel in Marietta Ohio
Set on the banks of the Ohio River is the Lafayette Hotel. In the heart of Marietta, the grand riverboat establishment is a historical landmark. With interesting artifacts scattered among many of the hotels rooms, you will have a memorable, unique stay with a modern twist.
What makes it unique?
The significant history of the building and artifacts among the hotel
The Gun Room, Riverfront Bar & Grill and Riverview Lounge offer dining right within the hotel
On-site events such as comedy, buffets, dinners, mystery dinners, auctions and more
Stunning event spaces for whatever your party needs
Lafayette Hotel in Marietta Ohio
101 Front St, Marietta, OH 45750
(740) 373-5522
Find Out More & Book Now
Landoll's Mohican Castle
Step into the pages of a storybook right in the middle of Northeast Ohio. Landoll's Mohican Castle offers an ideal romantic getaway in our very own American castle. With a rich history and many outdoor activities in the area, you will have plenty to do on your stay.
What makes them unique?
There are daily tours of the castle, as well as ghost tours at certain times of the year
The castle has a newly renovated pool
The world class Copper Mug Bar & Grille Restaurant is located on the property
You can plan your trip around public events that the castle offers throughout the year
Landoll's Mohican Castle
561 Township Road 3352, Loudonville, OH 44842
(419) 994-3427
Find Out More & Book Now
The Geneva on the Lake Lodge
The Lodge at Geneva-on-the-Lake is set on the southern shore of Lake Erie. Located near Geneva State Park and in the heart of Ohio Wine Country, there is something to do for every age at any time of the year. Horizon's Restaurant & Lounge is located right on the property for your dining needs.
What makes them unique?
There is a wine shuttle that can take you on vineyard visits
Bike rentals are available, as well as cross-country skiing or snowshoeing rental opportunities
The Lodge partners with Lakehouse Inn & Spa to add to your getaway experience
Other area attractions/partners include dinner theater, zip lining, golf, boating and fishing
The Lodge at Geneva-on-the-Lake
4888 N Broadway, Geneva, OH 44041
(866) 806-8066
Find Out More & Book Now
Metropolitan at the 9
Stay right in the excitement of the heart of Cleveland. Metropolitan at the 9 offers luxury accommodations with access to everything downtown has to offer. Shows, dining, museums and so much more are right at your fingertips!
What makes it unique?
Metropolitan at the 9 offers packages that include a room stay, food and beverage credits and tickets to specific area attractions
All suites and rooms offer stylish furnishes and amenities
The hotel is pet-friendly and offers special packages just for your fury friend
Fitness programs and facilities are available for guests
Metropolitan at the 9
2017 E 9th St, Cleveland, OH 44115
(216) 239-1200
Find Out More & Book Now
The Mohican Treehouses
Sleep among the trees! Located in Glenmont Ohio, about 20 minutes from Mohican State Park, The Mohicans spans 77 wooden acres in the beautiful Mohican Valley. They offer weddings in the Grand Barn Event Center and lodging in Rustic Cabins or Tree Houses.
What makes them unique?
Each tree house is one-of-a-kind with rustic décor, yet high end, modern touches
Special occasion items are available with your reservation to add to your romantic experience
Each tree house has a personal fire pit
Nearby outdoor activities include: Zip lining at Tree Frog Canopy Tours and hiking at Mohican State Park
The Mohicans
Glenmont, Ohio 44628
Tree House and Cabin Reservations – (740)599-9030
Wedding information – (440) 263-8546
info@themohicans.net
Find Out More & Book Now | Our Review & Video Tour
Murphin Ridge Inn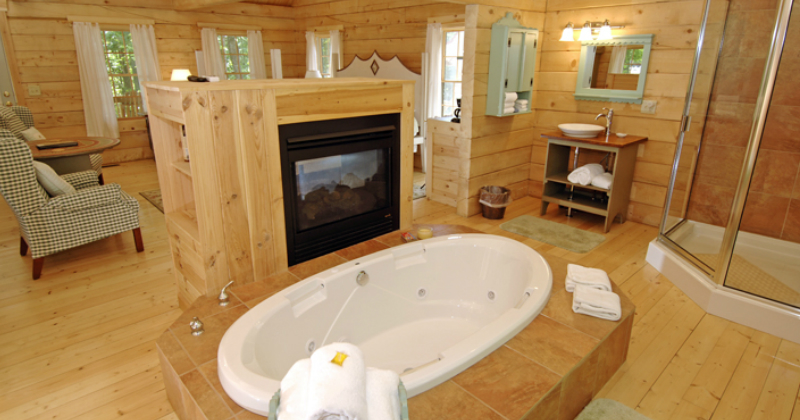 The Murphin Ridge is a remote and romantic getaway right in the middle of Amish Country. The bed and breakfast showcases the foothills of the Appalachian Mountains on more than 142 acres. You can leave the property to shop for antiques or simply explore what nature has to offer!
What makes it unique?
Guests stay in a contemporary lodge that has reproductions of Shaker elements
The Inn boasts a swimming pool, tennis courts, shuffleboard and croquet
They offer in-house dining, including 7-days a week breakfast and dinner from 5:30 to 7:30 p.m.
Several parks, golf courses, Amish businesses and specialty shops are located nearby
Murphin Ridge Inn
750 Murphin Ridge Rd, West Union, OH 45693
(877) 687-7446
Find Out More & Book Now
Ravenwood Castle
Surrounded by half a dozen state and national forests is a castle with medieval flare! Each room or cabin has a unique identity. Ravenwood provides an ideal location to disconnect from the hustle and bustle of the world and enjoy a romantic getaway with the one you love.
What makes it unique?
Ravenwood Castle hosts all types of events from murder mysteries to beer tastings
There is a large gaming library and allow you to host gaming events
There is dining available in the Great Hall or the Raven's Roost Pub
In addition to castle rooms and cabins is the Huntman's Hollow, a rustic wooden village at the back of the property, perfect for larger groups to stay and gather together
Ravenwood Castle
65666 Bethel Rd, New Plymouth, OH 45654
(740) 596-2606
Find Out More & Book Now
Sawmill Creek Resort
Set on 235 acres and situated right on Lake Eerie, the Sawmill Creek Resort is an entire community within itself. You never have to leave the resort to find relaxation and fun. Whether you want to hang out around the lodge or venture off to one of Ohio's wineries, you will create the ultimate getaway.
What makes them unique?
Sheldon Marsh State Nature Preserve is adjacent to the resort and part of the trail walk; it is perfect for hiking, biking or a birding trip
The resort is home to the 18-hole Tom Fazio golf course
There are indoor and outdoor pools, as well as a beautiful lakefront sand beach
Five dining options and live entertainment are available
Sawmill Creek Resort
400 Sawmill Creek Dr W, Huron, OH 44839
(419) 433-3800
Find Out More & Book Now
More Romantic Getaway Destinations