Valentine's Day is rapidly approaching. This year be sure to show your family how much they mean to you. It doesn't have to cost a lot or be an over-the-top celebration, just set some time aside to focus on your family and share how much you love them.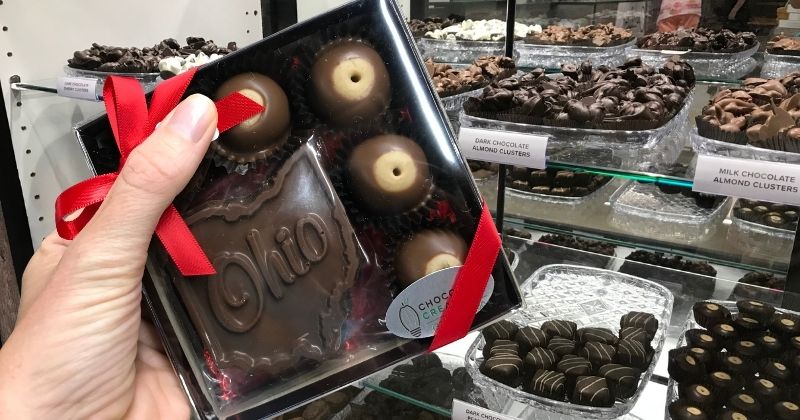 Below are some Valentine's Day-themed activities and some other fun ways to celebrate the holiday with your children. Head out to participate in local events and activities happening across the area or simply enjoy Valentine's Day fun at home.
Things to Do on Valentine's Day
Make Time for a Special "Family Date"
With so many fun things to do in Northeast Ohio, let the kids choose their favorite "date" activity. Roller skating, laser tag, scavenger hunts, snow tubing, museums, ice skating, and more.
One of our favorite things to do is to visit a candy shop or tour a chocolate factory to pick up some yummy Valentine's treats! Afterward, we like to head home to watch a movie or enjoy board games together.
You can also head to World Chocolate Inc in Hartville and create your own custom chocolate bar. You'll get to choose your chocolate, add your favorite toppings, watch your chocolate bar move through the cooling tunnel and enjoy your creation!
Make Valentine Crafts Together
There are a wide variety of crafts you can do together as a family. Start with the events page of your local library. You'll find there are many Valentine's Day-themed arts, crafts, and activities offered by our local libraries including those in Akron/Summit County, Cuyahoga County, as well as many others across the area. As a bonus, many of them are offered free of charge.
Local businesses also offer craft classes that kids and parents can enjoy together. Find in-person and online classes offered by Michaels or pick up free craft projects from the JCPenney Kids Zone to make later.
Looking for creative diy crafts you can make together at home? Grab some supplies, get your creative juices flowing, and try painting rocks together. Have fun with the creative process, then hide the rocks around your neighborhood or nearby park for others to discover and appreciate.
If your family prefers paper crafts, create your own paper mosaic Valentine's Day gifts instead.
Just remember that the objective is not to have a perfect final product, it is to enjoy each other's company.
Explore Nature This Valentine's Day
Hikes, nature programs, love bird crafts, and more! There are so many holiday-themed events and activities offered by our local park systems like those at Lorain County Metroparks, Medina County Parks, and Summit Metro Parks including both outdoor and indoor things to do to celebrate the holiday.
Or surprise your family with a special hike to see a frozen waterfall. Our top picks for easy to access waterfalls include Berea Falls, Chagrin Falls, Brandywine Falls, and the Gorge Metropark.
Start a New Valentine's Day Tradition
Write and share Valentine's Day letters with your family. This wonderful tradition helps you express your love for one another in writing. It's a fun way to watch your child's written expression skills grow throughout the years and the letters will quickly become keepsakes for everyone to enjoy for years to come!
And don't forget to share the love. Many people are lonely and miss their loved ones this time of year. Share your love for friends, family, and even strangers by practicing random acts of kindness and make someone's day.
No matter how you choose to celebrate the day this year be sure to tell the ones you love how much you appreciate them.
Have a wonderful Valentine's Day!