Camping is a fun and relaxing way to get the kids outside this summer. Whether you head out for a long weekend getaway or make it a week-long vacation in nature, most area campgrounds offer many recreation options, like swimming, fishing and crafts. Pack up your tent, load up your trailer or RV, and visit one of these family campgrounds in Ohio!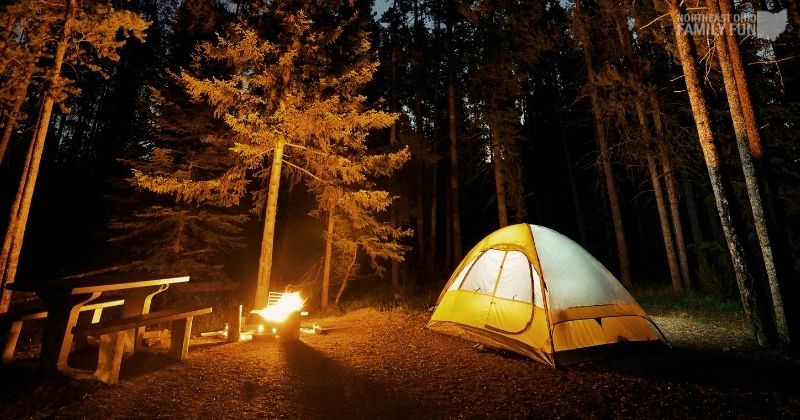 Whether you are looking for a full-service camping option with showers, electricity, and plenty of activities to keep the kids busy, or you'd prefer a more primitive spot, we've got a campground for you.
Mohican Adventures
Your Adventure Starts with Us!
Mohican Adventures Campground & Cabins has 40+ acres of electric, primitive, and wooded tent camping, as well as 180+ full hookup RV sites. Enjoy modern shower houses and several on-site activities! Our full-service cabin rentals vary from rustic log cabins to deluxe vacation homes.
Across the street at Mohican Adventures River Trips & Fun Center, journey down the Mohican River with us in a canoe, kayak, raft, or tube! Challenge your friends to a round of miniature golf, or take a spin on our go-kart tracks. Our Aerial Adventure Park takes your adventure to a whole new level!
Located in Loudonville, OH, just a mile north of Mohican State Park.
Jump to a specific county: Ashland | Ashtabula | Columbiana | Geauga | Lorain | Mahoning | Medina | Portage | Stark | Summit | Trumbull | Tuscarawas | Wayne
Map of area Campgrounds
Arrow Point Campground
6270 Twp. Rd 208, Loudonville, OH 44842
Playground, arcade, basketball, canoeing
(419) 994-5374
Website
Camp Toodik
7700 Township Rd 462, Loudonville, OH 44842
Arts and crafts, canoeing, heated pool, wagon rides, planned activities
(419) 994-3835
Website
Country Stage Campground
40-C TWP Rd. 1031, Nova, OH 44859
3-acre fishing lake, playground, arcade, pool table, crafts, planned activities
(419) 652-2267
Website
Mohican Adventures
3058 State Rt. 3 South, Loudonville, OH 44842
Water sports, aerial park, go-karts, miniature golf
(419) 994-2267
Website
Mohican Reservation
23270 Wally Rd, Loudonville, OH 44842
Soccer, baseball, basketball, water sports, playground, game room
(800) 766- 2267
Website
Rainbow Springs Family Campground
3435 State Route 3, Loudonville, OH 44842
Swimming pond, fishing, 18-hole disc golf course, game room
(419) 994-5095
Website
River Run Family Campground
3070 CR 3175, Loudonville, OH 44842
Swimming pool, playground, game room, basketball, volleyball, canoeing
(419) 994-1116
Website
Rustic Lakes Campgrounds
44901 New London Eastern Rd, Sullivan, OH 44880
Swimming pool, three fishing lakes, planned activities
(440) 647-3804
Website
Smith's Pleasant Valley Campground & Cabins
16325 CR 23, Loudonville, OH 44842
Outdoor movies, playground, volleyball, fishing, swimming pool, canoeing
(419) 994-4024
Website
Terrace Lakes Campground
622 Township Rd. 462, Sullivan, OH 44880
Swimming Lake, two fishing lakes, boating, playground, planned activities, disc golf, horseshoes
(419) 736-3463
Website
Bayshore Family Camping
7124 Pymatuning Lake Rd, Andover, OH 44003
Basketball, volleyball, horseshoes, bocce ball, playground, heated swimming pool, spa, planned activities
(800) 222-7202
Website
Evergreen Lake Park
703 Center Rd, Conneaut, OH 44030
Miniature golf, playground, volleyball, planned activities
(440) 599-8802
Website
Hide-A-Way Lakes
2034 South Ridge Rd. West, Ashtabula, OH 44004
Basketball, horseshoes, movie rentals, fishing, game room
(440) 992-4431
Website
Indian Creek RV & Camping Resort
4710 Lake Rd. E, Geneva on the Lake, OH 44041
Fishing, miniature golf, swimming pool, planned activities, volleyball, bocce ball, pickle ball, playground, basketball
(888) 726-7802
Website
Kenisee Grand River Campground
4680 OH-307, Geneva, OH 44041
Swimming, fishing, boating, planned activities
(440) 466-2320
Website
Pine Lakes Campground
3001 Hague Rd, Orwell, OH 44076
Weekend activities, swimming, hiking, basketball, volleyball, arcade, fishing
(440) 437-6218
Website
Willow Lake Campground
3935 N. Broadway, Geneva, OH 44041
Swimming lake, planned activities, fishing, playgrounds, basketball, horseshoes, corn hole
(440) 466-0150
Website
Big Arb's Campground
25091 Buffalo Rd, East Rochester, OH 44625
Heated swimming pool, game room, playgrounds, volleyball, basketball, fishing, weekend events
(330) 894-2360
Website
Chaparral Family Campground
10136 Middletown Rd, Salem, OH 44460
Basketball, game rooms, volleyball, shuffleboard, horseshoes, playground, swimming, boating, fishing, hiking, planned activities
(330) 337-9381
Website
Lock 30 Woodlands
45529 Middle Beaver Rd, Lisbon, OH 44432
Bocce ball, basketball, volleyball, horseshoes, swimming pool, game room
(330) 424-9197
Website
Paradise Lake Park Campground
6940 Rochester Rd, East Rochester, OH 44625
Planned activities, playgrounds, swimming lake, horseshoes, shuffleboard, fishing
(330) 525-7726
Website
Thompson/ Grand River Valley KOA
6445 Ledge Rd, Thompson, OH 44086
Basketball, gem mining, playground, swimming pond, gaga ball, fishing, weekend activities, jumping pillow
(440) 298-1311
Website
Windrush Hollow Campgrounds
15560 Mayfield Rd, Huntsburg, OH 44046
Swimming lake, fishing, playgrounds, game room, basketball, volleyball, horseshoes
(440) 635-5050
Website
American Wilderness Campground
17273 Avon Belden Rd, Grafton, OH 44044
Game room, swimming lake, fishing, boating, biking, hiking, playgrounds, planned activities, basketball, volleyball, gem mining, adventure park, sprinklers
(440) 926-3700
Website
Schaun Acres
51390 State Route 303, Oberlin, OH 44074
Swimming pool, playground, basketball, fishing, volleyball game room
(440) 775-7122
Website
Timber Ridge Campground
51900 Portman Rd, Amherst, OH 44001
Indoor pool, planned activities, fishing, game room, playground, adult arcade, teen lounge, basketball, shuffleboard
(440) 965-4113
Website
Lake Milton/Berlin KOA
15487 Creed Rd, Lake Milton, OH 44429
Swimming lake, waterslide, jumping pillow, fishing, boating, crafts, volleyball, basketball, horseshoes, shuffleboard, playground, gaga ball, game room, planned activities
(330) 538-2194
Website
Homerville KOA
11450 Crawford Rd, Homerville, OH 44235
Basketball, volleyball, softball, horseshoes, swimming pool, hiking, fishing, playground, planned activities
(330) 625-2817
Website
Maple Lakes
4275 Blake Rd, Seville, OH 44273
Planned activities, swimming pool, playground, fishing, baseball, basketball, volleyball, hayrides
(330) 336-2251
Website
Pier Lon Campground
5960 Vandemark Rd, Medina, OH 44256
Swimming lake, baseball, game room, playground, basketball, crafts, paddle boats, fishing, disc golf, volleyball, horseshoes, hayrides, corn hole, ladder golf, planned activities
(330) 667-2311
Website
Shawnee Lake Park
6464 Congress Rd, Spencer, OH 44275
Swimming pool, hay rides, game room, playground, fishing, volleyball, boating
(330) 648-2577
Website
Sunset Lake Campground
5566 Root Rd, Spencer, OH 44275
Swimming pond, special events, horseshoes, volleyball, miniature golf, playground, boating, game room, fishing
(330) 667-2686
Website
Willow Lake Park
2400 Substation Rd, Medina, OH 44256
Swimming lake, fishing, baseball, basketball, miniature golf, game room, planned activities, playground,
(330) 225-6580
Website
Country Acres Campground
9850 Minyoung Rd, Ravenna, OH 44266
Swimming pool, splash pad, peddle carts, paddle boats, jumping pillow, water wars, obstacle course, game room, fishing, basketball, volleyball, horseshoes, planned activities
(330) 358-2774
Website
Friendship Acres Campground
2210 State Route 44, Atwater, OH 44201
Heated swimming pool, fishing, playground, baseball, basketball, volleyball, game room, hayrides, crafts, basketball, volleyball, corn hole, fishing, planned activities
(330) 325-9527
Website
Hidden Valley Campground
7515 Doak Rd, Ravenna, OH 44266
Swimming lake, boating, game room, fishing, playground, corn hole, planned activities, volleyball, horseshoes
(330) 297-1175
Website
Kool Lakes Family Campground
12990 Nelson Ledge Rd, Garrettsville, OH 44231
Swimming lake, volleyball, fishing, boating, playgrounds, game room, indoor activity center
(440)548-8436
Website
Roundup Lake Campground
3392 State Route 82, Mantua, OH 44255
Playgrounds, miniature golf, swimming pool, pedal carts, boating, basketball, volleyball, wagon rides, baseball, horseshoes, game room, shuffleboard, swimming lake
(330) 562-9100
Website
Streetsboro/Cleveland SE KOA
187 State Route 303, Streetsboro, OH 44241
Swimming pool, fishing, planned activities
(330) 650-2552
Website
Woodside Lake Park
2486 Frost Rd, Streetsboro, OH 44241
Volleyball, horseshoes, hiking, swimming lake, fishing, basketball, game room, playground, planned activities
(330) 626-4251
Website
Akron/Canton Jellystone Park
12712 Hoover Avenue NW, Uniontown, OH 44685
Miniature golf, water zone, planned activities, theme weekends, cyclone swing, 100 ft. slide, gaga ball, fooze, volleyball, playground, tether ball, gem mining
(330) 877-9800
Website | Our Review
Baylor Beach Park
8777 Manchester Ave. SW, Navarre, OH 44662
Swimming, boating, miniature golf, gem mining, playground, volleyball, basketball
(330) 767-3031
Website | Our Review
Bear Creek Ranch KOA
3232 Downing St. SW, East Sparta, OH 44626
Swimming pool, fishing, boating, horseback riding, miniature golf, playground, hayrides, theme weekends, game room, badminton, horseshoes, volleyball, basketball, tetherball
(800) 562-3903
Website
Clay's Park Resort
13190 Patterson St. N.W., N. Lawrence, OH 44666
Heated indoor pool, fishing, tennis, basketball, waterpark, boating, miniature golf, volleyball, hiking, biking, theme weekends
(330) 854-6691
Website
Cutty's Sunset Camping Resort
8050 Edison St. NE, Louisville, OH 44641
Playground, crafts, obstacle course, volleyball, tennis, basketball, shuffleboard, horseshoes, bocce ball, planned activities, kids place, swimming pool, spray park
(330) 935-2431
Website
Lake O' Pines
1481 Lake O' Pines, Hartville, OH 44632
Boating, fishing, swimming, horseshoes, hiking, basketball, volleyball, tennis
(330) 877-6081
Website
Cherokee park Family Campground
3064 SR 43, Mogadore, OH 44260
Game room, paddleboats, fishing, hayrides, shuffleboard, pedal carts, tandem bikes, volleyball, horseshoes, basketball
(330) 673·1964
Website
Countryside Campground
2687 State Route 43, Mogadore, OH 44260
Boating, fishing, hiking, swimming pool, game room, hayrides, miniature golf, planned activities
(330) 628-1212
Website
The Lake
2678 S. Hametown Rd, Norton, OH 44203
6-acre Swim park, miniature golf, batting cage, playgrounds, disc golf, goat petting zoo, volleyball, basketball, tennis, gaga ball, arcade,
(330) 825-4343
Website
Chestnut Ridge Park & Campground
6486 Chestnut Ridge Rd, Hubbard, OH 44425
Swimming lake, fishing, basketball, volleyball, bocce ball, corn hole, horseshoes, playground, hiking, biking, boating, game room
(330) 534-2352
Website
Ridge Ranch Campground
5219 State Rd 303, Newton Falls, OH 44444
Planned activities, boating, miniature golf, fishing, playgrounds, horseshoes, volleyball, basketball, game room
(330) 898-8080
Website
Atwood Lake Park
9500 Lakeview Road NE, Mineral City, OH 44656
Activity center, basketball, boating, fishing, observation tower, playgrounds, planned activities, volleyball, shuffleboard, hiking
(330) 343-6780
Website
Wood's Tall Timber Resort
1921 Tall Timber Rd NE, New Philadelphia, OH 44663
Swim park lake, fishing, game room, playground, golf course, target range, miniature golf, hiking, zipline, planned activities, boating
(330) 602-4000
Website
Hickory Lakes Campground
23 Township Road 1300, West Salem, OH 44287
Biking, fishing, swimming pool, swimming lake, boating, planned activities
(419) 869-7587
Website
Hidden Acres Campground
107 Township Road 810 #40 West Salem, OH 44287
Fishing, swimming lake, boating, planned events
(419) 853-4687
Website
Lake Wapusun Campground
10787 Molter Rd, Shreve, OH 44676
Hayrides, game room, playgrounds, fishing, swimming lake, basketball, volleyball, boating, horseshoes, baseball
(330) 496-2355
Website
Meadow Lake Park
8970 Canaan Center Rd, Wooster, OH 44691
Fishing, swimming lake, shuffleboard, tennis, horseshoes, playground, basketball
(330) 435-6652
Website
Prairie Lane Lake Park
4489 Prairie Lane Rd, Wooster, OH 44691
Hiking, swimming lake, fishing, boating,
(330) 262-3322
Website
Town & Country Camp Resort
7555 Shilling Rd, West Salem, OH 44287
Horseshoes, playground, swimming pool, volleyball, basketball
(419) 853-4550
Website