If you're looking for ideas and inspiration for family friendly fall fun, this list is for you!  Below you'll find details on 100 things to do in Northeast Ohio this fall!
Want to find out about all the fun things to do in Northeast Ohio?
Sign up for the FREE weekly newsletter and have the fun details delivered to your inbox once a week!
I'd love your input too!  Are there events on the list that you've been to before?  Any other recommendations?  Please leave a comment below and let me know.
100 Things to Do in Northeast Ohio this Fall
Get outside, enjoy some fresh air and Pick Apples at a Local Apple Orchard
Wondering what to do with all those apples?  Consider making Caramel Apples or Crockpot Applesauce.
Looking for some good old fashioned fun on the farm?  Browse through the list of over 40 area Pumpkin Farms, Corn Mazes & Hayrides
Enjoy the fun at an annual Fall Festival with pumpkin carving contests, s'mores, caramel apples and more.
Or visit Stearns Homestead Farm or Mill Creek Metroparks Farm where admission is always FREE and they often have many great events.
Many counties also organize farm tours during the fall months. In years past this has included Lorain, Stark and Wayne Counties. Subscribe to the Northeast Ohio Family Fun weekly newsletter to be notified of the weekends they occur this year.
Check out the Family Friendly Halloween Events & Activities and let your kids don their Halloween costumes again and again. Note:  This event listing is updated yearly with current information available in mid-September
Find out when your community is having Trick-or-Treat this year. Note: This event listing is updated yearly with current information available in early October.
Head to Cedar Point for their Kids Friendly Halloweekends event.
Or if you have older kids or are planning an adults night out you may want to check out the area Haunted Houses & Halloween Thrills 
You can also drive around and enjoy these FREE Halloween Yard Displays like a house transformed into a pirate ship, the transformer house, musical light displays and much more. Note: This event listing is updated yearly with current information available in early October.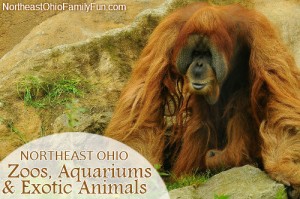 Calling all Summit County residents, on specific days during September you can get FREE Admission to the Akron Zoo. You must get your tickets in advance.
You can also see the animals at the Cleveland Zoo, Akron Zoo or Cleveland Aquarium at any time
Get in FREE at many area museums during FREE Museum Admission Day (Sept 26, 2015).
And the Pro Football Hall of Fame typically host a FREE Kids Friday in November. Details aren't available yet, but I'll include the details when they become available. Note: Sign up for the FREE Northeast Ohio Family Fun Newsletter so you don't miss out
Of course you visit the area Museums & Science Centers at any time for some educational fun!
Go down the HUGE slide at Secrest Arboretum or visit one of the many other Outdoor Gardens & Arboretums across Northeast Ohio
Grab your smart phone, download the free geocaching app and head out on a Geocaching scavenger hunt
Try your hand at Orienteering
Hike to the Waterfall in Akron at the Gorge part of Summit County Metroparks
Cheer on the tribe at a Cleveland Indian's Game and let the kids enjoy the Kid's Zone
Swimming outdoors may not be possible, but you can always enjoy water park fun at one of the Indoor Waterparks like Great Wolf Lodge, Castaway Bay and Splash Harbor (great for young children)
Let your kids burn off some energy at one of the many featured Parks & Playgrounds.
Hike the trails at a State or Metropark, you can even participate in the Summit Metroparks Fall Hiking Spree 
Sign up for the Cleveland Metroparks Kids Club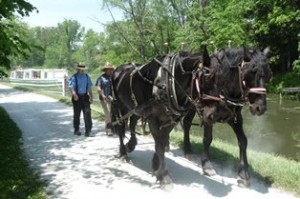 Ride on a Canal Boat pulled by a Horse
Get out your bikes and take a Family Bike Ride On the Towpath Trail. Enhance the fun by participating the fall Bicycle Poker Run (Saturday, September 12)
Wondering what a bicycle poker run is?  Read Our Review and see pictures of the canal horses we passed one the tow path.
Observe the changing leaves during one of the Northeast Ohio Fall Foliage Driving Tours 
Or, let your kids ride around one of these mini cities: Kiddy City in Wooster | Safety Village in Stow

With the cooler temps, you may need to play inside. Enjoy Laser Tag, Inflatables, Trampoline Parks, Roller Skating and more at one of the local Indoor Play Centers. 
You could even play a round or two of  Glow in the Dark Mini Golf
Do Science Experiments at Home
Many Thanks to Kristian from OhioFestivals.net for providing us with the inside scoop on some of the Unique Festivals Happening this Fall – Note: Monthly Festival details are update at the beginning of each month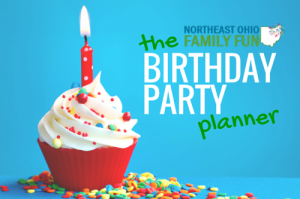 Does your child have a birthday party during the summer months? Use the Birthday Party Planning Guide to help make planning a breeze.
Enjoy a free kid's meal at one of the restaurants that offer Kid's Eat Free
Sign your Kids up for Art Classes or  Music Lessons 
Head to the Cleveland Museum of Art (it's always FREE Admission) for their FREE Family Days on the second Sunday of each month.
Learn to build at a Home Depot Kids Workshop or Lowe's Build and Grow Clinics
Take a tour of Harry London's Chocolate Factory, learn how chocolate is made and get some free samples too
Find out about all the fun events and ways to celebrate Thanksgiving this year.  Note:  This event listing is updated yearly with current information available in early November
Speaking of Thanksgiving, take the time to create a Thankful Tree with your kids. It's a fun visual reminder of how many little and big things we can be thankful for.
And for those who like to get their Christmas Tree's the day after Thanksgiving, check out the list of area Christmas Tree Farms where you can Cut Your Own Christmas Tree. Note:  This event listing is updated yearly with current information available in early November
See historical airplanes and more at MAPS Air Museum 
Get some great deals on gently used children's clothing at an area Kid's Fall/Winter Consignment Sale
So how about you?  Are there any locations on the list that you've been to before?  Attractions you're hearing about for the first time?  I'd love for you to leave a comment about the places on the list you'd recommend or if there are any places you know of that didn't make the list.
You may also be interested in:
Northeast Ohio Family Fun Newsletter
There is so much going on in our area and I'm excited for the opportunity to send you information about all the fun outings and events you'll want to check out.
Simply enter your name and email and then click to subscribe.