Looking for a fun outdoor activity for the family? This round-up is for you! Northeast Ohio has many fun outdoor spots and attractions that are prefect for families.
Know of any that aren't on the list? Don't keep a good thing to yourself! Instead submit the details here so we can add it to the list. Thanks!
Sports & Recreation
Challenge your family to mini golf, batting cages or bumper cars at one of the area Outdoor Play Centers.
Pack a frisbee and play a game of Frisbee / Disc Golf. There are lots of local courses to choose from.
Get out your bikes and take a Family Bike Ride On the Towpath Trail
If you don't have a bike consider Renting Bicycles for the family
Or, let your kids ride around one of these mini cities: Kiddy City in Wooster | Safety Village in Stow
Learn how to fish, enjoy a friendly competition and compete for prizes in one of the local Youth Fishing Derbies.
Watch a FREE Water Ski Show at Emerald Lake in Norton (Summer Months)
Rent a Canoe or Kayak and enjoy a ride down the river.
Head out to a local sled riding hill, go tobogganing at the Cleveland Metroparks or visit an area Ski Resort where you can go skiing, snowboarding or snow tubing in Ohio.
Parks, Playgrounds & Nature Fun
Parks & Playgrounds – We are fortunate to have an abundance of beautiful state, local and neighborhood parks across Northeast Ohio. Let the kids run and play on the playgrounds, take a hike along the trails or bring along a Frisbee or ball and have a game of catch. There's no shortage of outdoor fun to be had!
Hiking the trails is a great way to enjoy the great outdoors, add in a hike that takes you to a waterfall and it's even more fun.
Have kids in strollers and still want to hike? Try out one of these Stroller Friendly Hiking Trails
Grab your smart phone, download the free geocaching app and head out on a Geocaching scavenger hunt
Go down the HUGE slide at Secrest Arboretum, tour Stan Hywet Hall & Gardens or visit one of the many other Outdoor Gardens & Arboretums across Northeast Ohio. There are many to choose from and most offer a variety of educational activities geared toward children.
If you have a 4th Grader, sign them up and receive FREE Admission to National Parks for 4th Graders and their Families
Animal Adventures
Go on a Safari at African Safari Park, The Farm at Walnut Creek or Wagon Trails Animal Park
See the Animals at either the Cleveland Zoo or Akron Zoo
Ride on a Canal Boat pulled by a Horse
Take a Trip to the Farm and get up close with farm animals, meet the farmers and learn about what it takes to be a farmer.
See Bald Eagles (and baby eaglets) in the Wild at Walborn Reservoir
Outdoor Water Fun
Head to one of the many interactive spray parks.
Calling all City of Cleveland residents! Enjoy these FREE Swimming Pools in Cleveland. Be prepared to show your ID upon arrival.
Pack a picnic lunch, grab your towel and sunscreen and enjoy these fun Outdoor Water Parks.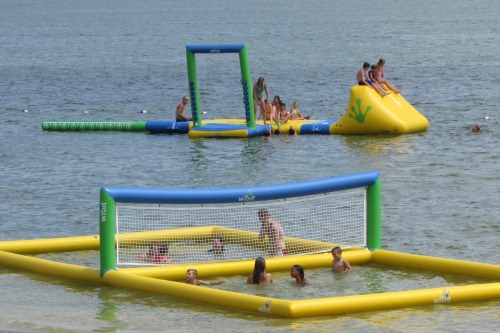 Plan a day trip to a check out the Inflatables at Atwood Lake Beach or visit one of the many other Beaches across Northeast Ohio
Movies, Concerts & Outdoor Entertainment
Enjoy a movie under the stars at one of the FREE Outdoor Movies (Summer months). Remember your lawn chairs and blankets!
Take the family to enjoy a Drive In Movie.
More Family Friendly Fun